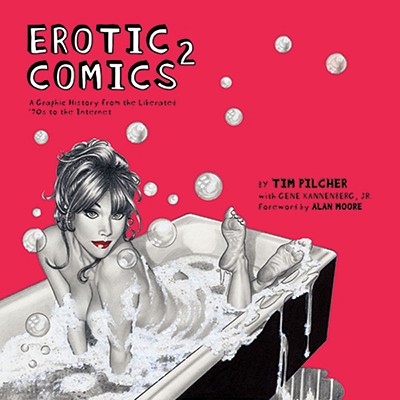 Erotic Comics 2
A Graphic History from the Liberated '70s to the Internet
Hardcover

* Individual store prices may vary.
Description
For over four decades, erotic comics have flourished around the world. Erotic Comics 2 examines how this budding art form exploded from the California comix scene to become an international publishing phenomenon.
Beginning with an exploration of newly liberated American artists in the '70s, this overview examines the gay and lesbian comics scene, current artists and publishers in Europe, and Japanese erotica. After delving into the sexual mores of Japanese Hentai: from tentacle sex to Yaoi, the book looks to the future, where erotic comic creators are sidestepping legal issues by producing work solely for the Internet.
Filled with rarely seen art from international forerunners such as Dave Stevens, Jordi Bennet, Frank Thorne, Tom of Finland, Ralf Kšnig, and Milo Manara, Erotic Comics 2 is perfect for fans of adult comics, art history, and erotic illustration. As Alan Moore urges in his foreword: "Absorb the contents of this book, and do so shamelessly."

Abrams ComicArts, 9780810972773, 192pp.
Publication Date: March 1, 2009
About the Author
Alan Moore lives in Northampton, England, and is most famous for his influential work in comics, including the acclaimed comic books Watchmen, V for Vendetta, and From Hell. In 2006 Alan Moore and Melinda Gebbie released Lost Girls, an illustrated series of erotic art exploring the possible sexual meanings in Alice's Adventures in Wonderland, Peter Pan, and The Wonderful Wizard of Oz. He lives in Northampton, England. Eva Prinz is a New York-based editor and curator.
or
Not Currently Available for Direct Purchase