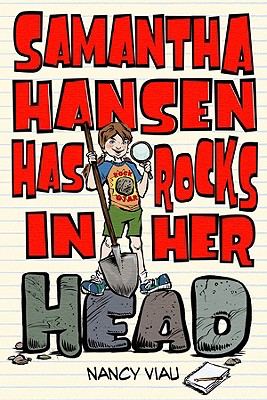 Samantha Hansen Has Rocks in Her Head (Hardcover)
Amulet Books, 9780810972995, 178pp.
Publication Date: September 1, 2008
* Individual store prices may vary.
Description
Ten-year-old Samantha Hansen is a mad scientist. But not the crazy kindshe doesn t blow stuff up or mix potions or dissect bugs. She just loves scienceespecially rocksand figuring out how the world around her works. But there are some things there just isn t a scientific answer for. Like, why can t her bossy big sister keep her hands off Sam's rock collection? And why can t Sam control her temper? There are some bigger questions, too, like why did her father have to die? And why won t her mom talk about him anymore?When Sam's mom announces a family trip to the Grand Canyon, it's a dream come true. But it's also a challenge: If Sam can t learn to calm down and ignore her irritating sister, she's going to miss her chance to see one of the world's biggest rocks and maybe find the answers to some of her questions.Samantha Hansen Has Rocks in Her Head is a hilarious and touching debut that introduces an exuberant new character who studies the world around her as she discovers what is in her own heart.F&P level: S.
About the Author
Nancy Viau has written stories for numerous children's magazines, including Highlights and Ladybug. This is her debut novel. She lives in Mullica Hill, New Jersey.
or
Not Currently Available for Direct Purchase