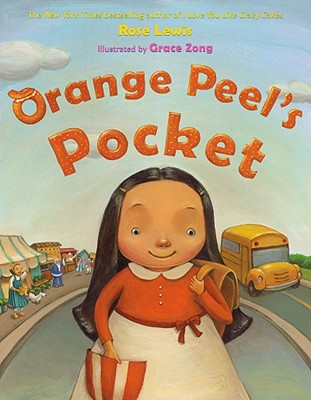 Orange Peel's Pocket (Hardcover)
Abrams Books for Young Readers, 9780810983946, 32pp.
Publication Date: April 1, 2010
* Individual store prices may vary.
or
Not Currently Available for Direct Purchase
Description
One day in class, Orange Peel who got her nickname by eating orange peels when she was little and her classmates learn about China. Everyone starts to ask Orange Peel questions about the country because they know that's where she was born. But she doesn t have all the answers. So Orange Peel joins her mother on her neighborhood errands to find out.
Many of the shops they visit are owned by people who also were born in China. Each has a story to tell Orange Peel. She visits Mr. Fan the tailor, who speaks about silk; Ma Sang, who owns an antiques store and also writes poetry; Mrs. Liu at the flower shop; Mr. Yu, whose restaurantmakes best there ever was noodle soup; and Jasmine at the ice cream shop. Orange Peel can t wait to tell the kids at school about China's influence on all of these things, but first she discovers a number of gifts that have been slipped into her pocket by the store owners: silk, a poem, a peony, a noodle soup recipe, and a lucky red knot. Orange Peel is overjoyed, as the treasures she's found link her to the place where she was born.
Rose Lewis's text is a wonderful look into China's influence on history and the modern world. Exciting new illustrator Grace Zong brings the story to life through her modern and thoughtful art.
F&P Level: M
F&PGenre: RF Praise for the work of Rose Lewis
Bank Street College Best Children's Books
Child Magazine Best Books
Oppenheim Toy Portfolio Platinum Awards
BookSense Book of the Year finalist
Offers abundant reassurances of love to adopted children . . . Publishers Weekly
Sweetly sentimental . . . taps into a well of genuine emotion. Publishers Weekly
About the Author
Rose Lewis is the author of the New York Times bestseller I Love You Like Crazy Cakes, which Kirkus said was destined to become a classic in a starred review. She is also the author of the award-winning Every Year on Your Birthday, which Booklist, in a starred review, described as a loving portrait of a single mother and an adopted child [that] gently accentuates the importance of incorporating the child s culture into her new life. Rose lives in Massachusetts with her daughter and their beloved dog, Teddy. Grace Zong was born in Illinois and moved to Korea when she was seven. Later, she returned to the United States to study art at the Rhode Island School of Design, where she majored in illustration. She splits her time between her home in New York, and her home in Korea. This is her first picture book."
Advertisement