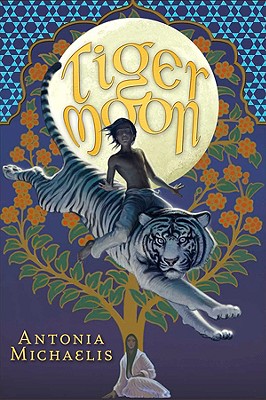 Tiger Moon (Hardcover)
Amulet Books, 9780810994812, 453pp.
Publication Date: November 1, 2008
Other Editions of This Title:
Paperback (10/1/2009)
* Individual store prices may vary.
Description
Fate brings together a talking tiger, a doomed princess, and a rascally thief in a thrilling, old-fashioned tale from an exciting, internationally acclaimed new talent.
How does a story of India begin?
Does it begin with the three rivers the Ganges, the Yamuna, the unseen Sarasvati pouring her dreaming waters down from the snowy mountains to the hot, dry plain?
Like other great storytellers of India, newcomer Antonia Michaelis weaves a tale that is grand in spirit and earthy in humor. She introduces the young thief Farhad, master of many disguises but not of his own heart, who, with the help of a sarcastic tiger, must save a Hindu princess from marriage to a demon king. It is the unlikely friendship between boy and tiger, and the sacrifice their journey demands, that is the soul of this lushly told, beautifully felt novel.
F&PLevel: Z+
F&PGenre: F
Praise for
Tiger Moon
from the foreign press The most beautiful and important adolescent book of the season
Libri Harry Pooh
Antonia Michaelis has succeeded in writing a wonderful and exciting novel, which is thrilling to the last page. You want to read more of her
Der Tagesspiegel
F&P level: Z+F&P level: Z+
About the Author
Antonia Michaelis has lived and taught in India. She is the author of several books published in her native Germany, where she now resides. This is her first book to be published in the United States. Anthea Bell is the translator of Cornelia Funke s bestselling Inkheart books. Her work has won the Marsh Award for Children s Literature in Translation, the Helen and Kurt Wolff Translator s Prize, and the Independent Foreign Fiction Prize. She lives in Cambridge, Great Britain."
or
Not Currently Available for Direct Purchase