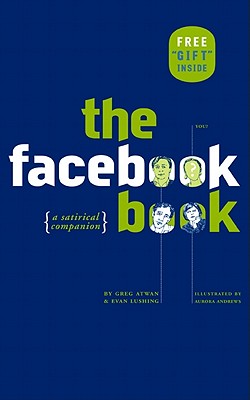 The Facebook Book
Paperback

* Individual store prices may vary.
Description
The Facebook Book, by Harvard alums and early Booksters Atwan and Lushing, follows in the fine satirical tradition of The Official Preppy Handbook and The Hipster Handbook, full of anecdotes (true and semi-true), tips (useful and useless), and other insights, including chapters on the Ethics and Etiquette of using the 'Book, what your profile really says about you, and a Facebook dictionary (which defines for the uninitiated terms like "frenemey" and "fauxmance"). The Facebook Book will appeal not only to undergrads, but also high schoolers (to whom the site was recently opened), savvy parents, and anyone who's tapped into Web 2.0 culture and counterculture.
Abrams Image, 9780810995574, 192pp.
Publication Date: May 1, 2008
About the Author
Greg Atwan, Harvard '05, holds degrees in Literature and Classics, dabbles in journalism, and hopes one day to make Facebook stalking a career path. He lives in New York City.
Evan Lushing, Harvard '04, holds a degree in Mathematics, wrote for the Harvard Lampoon, and is a bona fide YouTube celeb. He lives in New York City.
Aurora Andrews, Harvard '07, was an art editor at that institution's prestigious Lampoon, as well as a contributor to other campus publication including the Advocate, the Gamut, and H-Bomb. She lives in Brooklyn.
or
Not Currently Available for Direct Purchase