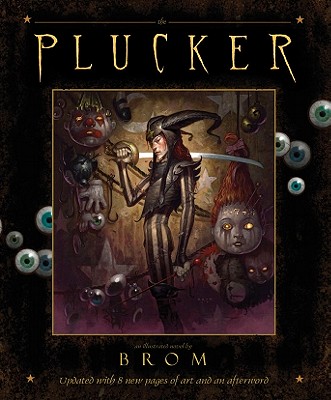 The Plucker (Paperback)
ABRAMS, 9780810996021, 143pp.
Publication Date: March 1, 2011
* Individual store prices may vary.
Description
The Plucker, now updated with new art and an afterword from world-renowned dark fantasy artist Brom, is a window into a world where fairy-tale tradition collides with vileness and depravity, love and heroism, suffering and sacrifice. In this shadowy land of make-believe, Jack and his box are stuck beneath the bed with the dust, spiders, and other castaway toys, and forced to face a bitter truth: Children grow up, and toys are left behind. Jack thinks this is the worst fate that can befall a toy. But when the Plucker, a malevolent spirit, is set loose upon the world of make-believe, Jack is thrust into the unlikely role of defending Thomas, the very child who abandoned him, and learns that there are worse ends for a toy than abandonment. As desperation mounts, Jack is thrown together with Thomas's other toys--Monkey, the Nutcracker, and the ethereally beautiful porcelain doll Snow Angel--as they struggle to rise above their simple roles as playthings and save the boy they love.
About the Author
Brom is the world-renowned illustrator whose vision has graced a wide range of fantasy and sci-fi fiction, games, and films, including Tim Burton's Sleepy Hollow.
or
Not Currently Available for Direct Purchase