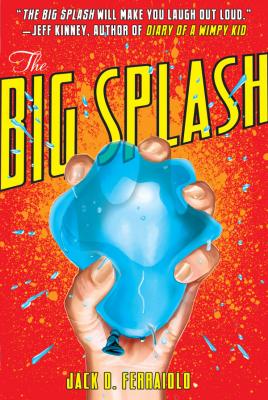 The Big Splash (Paperback)
Amulet Books, 9780810997127, 277pp.
Publication Date: March 1, 2011
* Individual store prices may vary.
or
Not Currently Available for Direct Purchase
Description
The treacherous, hormone-soaked hallways of Franklin Middle School are the setting for this sharp, funny noir novel about tough guys and even tougher girls. "The Frank"is in the clutches of a crime syndicate run by seventh-grader Vinny "Mr. Biggs" Biggio, who deals in forged hall passes and blackmarket candy. Double-cross him and your number is punched by one of his deadly water gun-toting assassins. One hit in the pants and you are in "the Outs" forever. Matt Stevens is a proud loner with his own code of justice. He's avoided being pulled into Vinny's organization until now: Mr. Biggs has offered him a job he can't resist, even if it means bringing down one of his oldest friends. Nominated for an Edgar Award in 2009, The Big Splash revitalizes the noir novel while delivering a terrific, addictive mystery that crackles with wit and excitement. Awards and praise for The Big Splash 2009 Edgar Award nomination "Jack Ferraiolo shines a light on middle school and reveals what we've always suspected: It's a sinister place ruled by crime bosses and thugs. The Big Splash will make you laugh out loud."
--Jeff Kinney, #1 New York Times bestselling author of Diary of a Wimpy Kid "Entertaining and thrilling."
--New York Times Book Review "An ingenious premise: junior high noir. . . . Twists and curve balls keep readers guessing; extended jokes will keep them laughing."
--Publishers Weekly, starred review "Well paced, funny, and suspenseful, with some real commentary on bullying and mob mentality."
--School Library Journal "If middle school has an 'underworld, ' this book is The Godfather and The Maltese Falcon all rolled into one. Better still, it's funny, and not just a little."
--Gordon Korman, author of Born to Rock
About the Author
Jack D. Ferraiolo is the author of The Big Splash. He grew up in southern Connecticut and lives in northern Massachusetts. As the head of development at a children's animation production company, he has developed and writes for WordGirl on PBS, for which he won an Emmy. Visit him online at www.jackferraiolo.com.
Advertisement