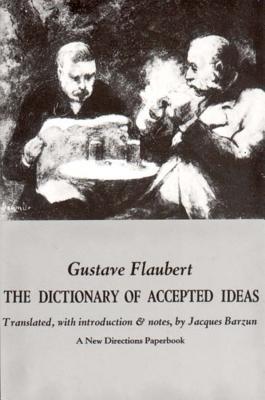 Dictionary of Accepted Ideas (Paperback)
New Directions, 9780811200547, 96pp.
Publication Date: January 17, 1968
* Individual store prices may vary.
Description
Jacques Barzun's masterful translation proves that Flaubert's Dictionary of Accepted Ideas—an acid catalogue of the clichés of 19th-century France—is as relevant today as ever.
Throughout his life Flaubert made it a game to eavesdrop for the cliché, the platitude, the borrowed and unquestioned idea with which the "right thinking" swaddle their minds. After his death his little treasury of absurdities, of half-truths and social lies, was published as a Dictionnaire des idées reçues. Because its devastating humor and irony are often dependent on the phrasing in vernacular French, the Dictionnairewas long considered untranslatable. This notion was taken as a challenge by Jacques Barzun. Determined to find the exact English equivalent for each "accepted idea" Flaubert recorded, he has succeeded in documenting our own inanities. With a satirist's wit and a scholar's precision, Barzun has produced a very contemporary self-portrait of the middle-class philistine, a species as much alive today as when Flaubert railed against him.
About the Author
Gustave Flaubert (1821-80) is considered to be one of the most important French novelists of the nineteenth century. He's most well known for his novel Madame Bovary, and for his desire to write "a book about nothing," a novel in which all external elements, especially the presence of the author, have been eliminated, leaving nothing but style itself. Often considered a member of the naturalist school, Flaubert despised categorizations of this sort, and in novels like Bouvard and Pécuchet demonstrates the inaptness of this label. In addition to these two novels, he is also the author of A Sentimental Education, Salambo, Three Tales, and The Temptation of Saint Anthony.

Jacques Barzun (1907-2012) was a leading historian scholar on American culture. He was born in France.