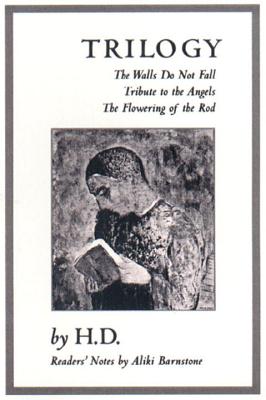 Trilogy
Paperback

* Individual store prices may vary.
Description
The classic Trilogy by H.D. (Hilda Doolittle, 1886-1961), including a large section of referential notes for readers and students, compiled by Professor Aliki Barnstone.
As civilian war poetry (written under the shattering impact of World War II).
Trilogy
's three long poems rank with T.S. Eliot's "Four Quartets" and Ezra Pound's "Pisan Cantos." The first book of the Trilogy, "The Walls Do Not Fall," published in the midst of the "fifty thousand incidents" of the London blitz, maintains the hope that though "we have no map; / possibly we will reach haven,/ heaven." "Tribute to Angels" describes new life springing from the ruins, and finally, in "The Flowering of the Rod"—with its epigram "...pause to give/ thanks that we rise again from death and live."—faith in love and resurrection is realized in lyric and strongly Biblical imagery.
New Directions, 9780811213998, 206pp.
Publication Date: September 17, 1998
About the Author
A feminist icon as well as a major twentieth-century poet, H. D. (the pen name of Hilda Doolittle, 1886–1961) wrote several volumes of poetry, fiction, and nonfiction and was an exquisite translator of classical Greek drama.

Aliki Barnstone's translations have appeared in American Poetry Review, TriQuarterly, Virginia Quarterly Review, and other journals. An editor and critic, she lives in Las Vegas and teaches at UNLV.