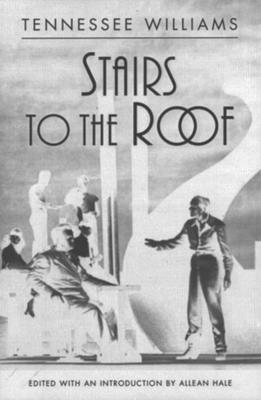 Stairs to the Roof (Paperback)
A Prayer for the Wild of Heart That Are Kept in Cages
New Directions Publishing Corporation, 9780811214353, 101pp.
Publication Date: May 17, 2000
* Individual store prices may vary.
Description

Stairs is Williams' revenge, expressed through his alter ego, Benjamin Murphy, the clerk who stages a one-man rebellion against the clock, the monotony of his eight-to-five job, and all the dehumanizing forces of an increasingly mechanized and commercial society. Ben's swift-moving series of fantastic adventures culminate in an escape from the ordinary that is an endorsement of the American dream. In 1941 with the world at war and civilization in danger of collapse, Williams dared to imagine a utopian future as Ben leads us up his stairs towards the Millennium.

Stairs to the Roof was produced only twice, once at the Playbox in Pasadena, California, in 1945, and subsequently at the Pasadena Playhouse in 1947. Now, in an edition meticulously prepared by noted Williams scholar Allean Hale, Williams fans can share this play of youthful optimism.