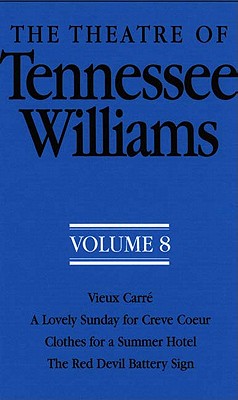 The Theatre of Tennessee Williams Volume 8 (Paperback)
Vieux Carre/A Lovely Sunday for Creve Coeur/Clothes for a Summer Hotel/The Red Devil Battery Sign (Theatre of Tennessee Williams Vol. a #8)
New Directions Publishing Corporation, 9780811214759, 378pp.
Publication Date: May 1, 2001
* Individual store prices may vary.
Description
The Theatre of Tennessee Williams presents, in matching format, the plays of one of America's most consistently influential and innovative dramatists. The first five volumes of this ongoing series contain Williams' full-length plays through 1975 and, in addition to the texts themselves, include original cast listings and production notes. Volumes VI and VII contain Williams' collected shorter plays. Now available as a paperbook, Volume VIII adds to the series' four full-length plays written and produced during the last decade of Williams' life. The text used for each play was corrected and revised by the playwright in preparation for publication, or, in the case of the posthumously published Red Devil Battery Sign, makes use of his last known revision.