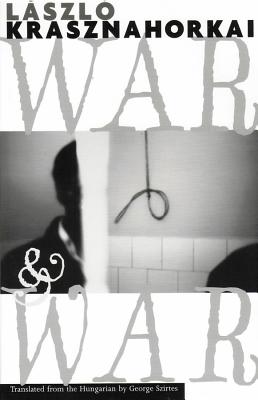 War & War
Paperback

* Individual store prices may vary.
Description
From the winner of the 2015 Man Booker International Prize
A novel of awesome beauty and power by the Hungarian master, Laszla Krasznahorkai. Winner of a 2005 PEN Translation Fund Award.
War and War
, Laszla Krasznahorkai's second novel in English from New Directions, begins at a point of danger: on a dark train platform Korim is on the verge of being attacked by thuggish teenagers and robbed; and from here, we are carried along by the insistent voice of this nervous clerk. Desperate, at times almost mad, but also keenly empathic, Korim has discovered in a small Hungarian town's archives an antique manuscript of startling beauty: it narrates the epic tale of brothers-in-arms struggling to return home from a disastrous war. Korim is determined to do away with himself, but before he can commit suicide, he feels he must escape to New York with the precious manuscript and commit it to eternity by typing it all on the world-wide web. Following Korim with obsessive realism through the streets of New York (from his landing in a Bowery flophouse to his moving far uptown with a mad interpreter),
War and War
relates his encounters with a fascinating range of humanity, a world torn between viciousness and mysterious beauty. Following the eight chapters of
War and War
is a short "prequel acting as a sequel," "Isaiah," which brings us to a dark bar, years before in Hungary, where Korim rants against the world and threatens suicide. Written like nothing else (turning single sentences into chapters),
War and War
affirms W. G. Sebald's comment that Krasznahorkai's prose "far surpasses all the lesser concerns of contemporary writing."
Praise For War & War…
The story in War & War is fascinating, but the writing surpasses even a story as inventive as this one…It is perhaps one of the most interesting technical accomplishments in any language…

— The Hyper Literate

eep in War and War may be a key to making sense of what happened on November 8th, 2016.

— Eileen Battersby - The Irish Times

Krasznahorkai writes with a measured and bizarre elegance…exquisite explorations of consciousness, perception and memory.
— Matthew Spellberg - Harvard Book Review

A seminal author of our time.
— David Auerbach - The Quarterly Conversation

I love Krasznahorkai's books. His long, meandering sentences enchant me, and even if his universe appears gloomy, we always experience that transcendence which to Nietzsche represented metaphysical consolation.
— Imre Kertész
New Directions, 9780811216098
Publication Date: April 17, 2006
About the Author
The winner of the 2019 National Book Award for Translated Literature and the 2015 Man Booker International Prize for lifetime achievement, László Krasznahorkai was born in Gyula, Hungary.

George Szirtes (b. 1948) is an award-winning poet and translator who settled in England after his family fled the Hungarian Uprising of 1956.