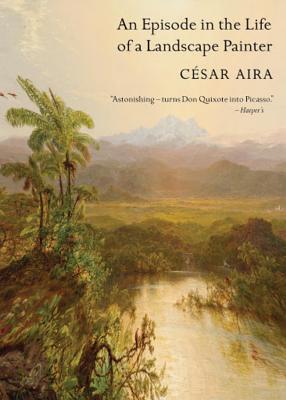 An Episode in the Life of a Landscape Painter
Paperback

* Individual store prices may vary.
Description
An astounding novel from Argentina that is a meditation on the beautiful and the grotesque in nature, the art of landscape painting, and one experience in a man's life that became a lightning rod for inspiration.
An Episode in the Life of a Landscape Painter
is the story of a moment in the life of the German artist Johan Moritz Rugendas (1802-1858). Greatly admired as a master landscape painter, he was advised by Alexander von Humboldt to travel West from Europe to record the spectacular landscapes of Chile, Argentina, and Mexico. Rugendas did in fact become one of the best of the nineteenth-century European painters to venture into Latin America. However this is not a biography of Rugendas. This work of fiction weaves an almost surreal history around the secret objective behind Rugendas' trips to America: to visit Argentina in order to achieve in art the "physiognomic totality" of von Humboldt's scientific vision of the whole. Rugendas is convinced that only in the mysterious vastness of the immense plains will he find true inspiration. A brief and dramatic visit to Mendosa gives him the chance to fulfill his dream. From there he travels straight out onto the pampas, praying for that impossible moment, which would come only at an immense pricean almost monstrously exorbitant price that would ultimately challenge his drawing and force him to create a new way of making art. A strange episode that he could not avoid absorbing savagely into his own body interrupts the trip and irreversibly and explosively marks him for life.
Praise For An Episode in the Life of a Landscape Painter…
May it herald many more such unsettling and elegant parables to come.
— Mark Doty - Los Angeles Times

Aira oversteps the bounds of realism, forcing the world to live up to his imagination.
— Benjamin Lytal - New York Sun

I'm about to reread César Aira's An Episode in the Life of a Landscape Painter once again. The book's mere 87 pages are so multi­faceted and transporting and I get so absorbed that upon finishing I don't remember anything. Like having a complex cinematic dream that dissipates upon awakening.

— Patti Smith - New York Times Book Review
New Directions, 9780811216302, 120pp.
Publication Date: May 25, 2006
About the Author
CÉSAR AIRA
was born in Coronel Pringles, Argentina in 1949, and has lived in Buenos Aires since 1967. He taught at the University of Buenos Aires (about Copi and Rimbaud) and at the University of Rosario (Constructivism and Mallarmé), and has translated and edited books from France, England, Italy, Brazil, Spain, Mexico, and Venezuela. Perhaps one of the most prolific writers in Argentina, and certainly one of the most talked about in Latin America, Aira has published more than 100 books to date in Argentina, Mexico, Colombia, Venezuela, Chile, and Spain, which have been translated for France, Great Britain, Italy, Brazil, Portugal, Greece, Austria, Romania, Russia, and the United States. One novel,
La prueba
, has been made into a feature film, and
How I Became a Nun
was chosen as one of Argentina's ten best books. Besides essays and novels Aira writes regularly for the Spanish newspaper
El País
. In addition to winning the 2021 Formentor Prize, he has received a Guggenheim scholarship, and was shortlisted for the Rómulo Gallegos prize and the Booker International Prize.
The poet
CHRIS ANDREWS
teaches at the University of Western Sydney, Australia, where he is a member of the Writing and Society Research Centre. He has translated books by Roberto Bolano and César Aira for New Directions. He has won the Anthony Hecht Poetry Prize for his poetry and the Valle-Inclan Prize and the French-American Foundation Translation Prize for his translations.
Author of
2666
and many other acclaimed works,
Roberto Bolano
(1953-2003) was born in Santiago, Chile, and later lived in Mexico, Paris, and Spain. He has been acclaimed "by far the most exciting writer to come from south of the Rio Grande in a long time" (Ilan Stavans,
The Los Angeles Times
)," and as "the real thing and the rarest" (Susan Sontag). Among his many prizes are the extremely prestigious Herralde de Novela Award and the Premio Rómulo Gallegos. He was widely considered to be the greatest Latin American writer of his generation. He wrote nine novels, two story collections, and five books of poetry, before dying in July 2003 at the age of 50.