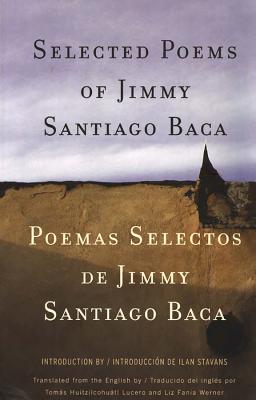 Selected Poems/Poemas Selectos (Paperback)
New Directions, 9780811218160, 304pp.
Publication Date: October 13, 2009
* Individual store prices may vary.
Description
"Baca writes with unconcealed passion . . . and manifests both an intense lyricism and that transformative vision which perceives the mythical and archetypal significance of life events."—Denise Levertov
Champion of the International Poetry Slam, winner of the Before Columbus American Book Award, the International Hispanic Heritage Award, the Pushcart Prize, and the prestigious International Award, Jimmy Santiago Baca has been writing as a mestizo (part Native American, part Mexican) and an outsider ever since he learned to read and write—in English—during a six-year Federal prison sentence when he was in his twenties. Drawing on his rich ethnic heritage and his life growing up in poverty in the Southwestern United States, Baca has a created a body of work which speaks to the disenfranchised by drawing on his experiences as a prisoner, a father, a poet, and by reflecting on the lush, and sometimes stark, landscape of the Rio Grande valley.
In response to increased demand for Latino poetry in Spanish, and to thousands of Baca fans who are bilingual, this unique collection contains Spanish translations of Baca's poetry selected from the volumes
Martín and Mediations on the South Valley
(1987),
Black Mesa Poems
(1989),
Immigrants in Our Own Land
(1990),
Healing Earthquakes
(2001),
C-Train and Thirteen Mexicans
(2002),
Winter Poems Along the Rio Grande
(2004), and
Spring Poems Along the Rio Grande
(2007).
About the Author
Jimmy Santiago Baca was born in Santa Fe, New Mexico, in 1952. His parents abandoned him at the age of two, and he lived with his grandmother for several years before being placed in an orphanage. A runaway at age thirteen, Baca was sentenced to five years in a maximum security prison at the age of twenty-one for drug offenses. It was in prison that he learned to read and write and began to compose poetry. His book Martín & Meditations on the South Valley, a pair of long narrative poems, won an American Book Award in 1988. In addition to his poetry collections and stories, Baca wrote the screenplay for the movie Bound by Honor, which was released by Hollywood Pictures in 1993.

Liz Fania Werner has lived and studied in Valparaíso, Chile. She recently completed an antiwar public poetry installation, "Blackout Poems," and is currently working on her first novel and conducting poetry-writing workshops in a juvenile detention center in her native New York City.

Ilan Stavans is Lewis-Sebring Professor in Latin American and Latino Culture at Amherst College. He is the author of many books, including Spanglish: The Making of a New American Language and A Most Imperfect Union. He is also general editor of The Norton Anthology of Latino Literature.
or
Not Currently Available for Direct Purchase