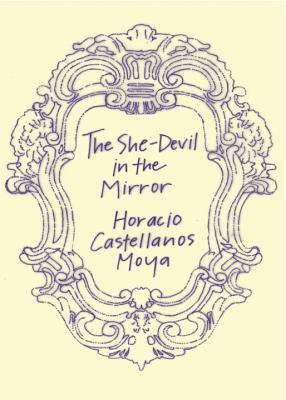 The She-Devil in the Mirror (Paperback)
New Directions, 9780811218467, 192pp.
Publication Date: September 30, 2009
* Individual store prices may vary.
Description
Salvadorean society is shocked by the gruesome murder of a young upper-class woman, and no one more so than her best friend Laura.  In her first-person solo narration, Laura rattles on and on about her disbelief and horror at the evils all around her—but who's that in the mirror?
Laura Rivera can't believe what has happened. Her best friend has been killed in cold blood in the living room of her home, in front of her two young daughters! Nobody knows who pulled the trigger, but Laura will not rest easy until she finds out. Her dizzying, delirious, hilarious, and blood-curdling one-sided dialogue carries the reader on a rough and tumble ride through the social, political, economic, and sexual chaos of post-civil war San Salvador. A detective story of pulse-quickening suspense,
The She-Devil in the Mirror
is also a sober reminder that justice and truth are more often than not illusive. Castellanos Moya's relentless, obsessive narrator—female, rich, paranoid, wonderfully perceptive, and, in the end, fabulously unreliable—paints with frivolous profundity a society in a state of collapse.
Castellanos Moya's
Senselessness
was acclaimed "an innovative and invigoratingly twisted piece of art" (
Village Voice
) and "a brilliantly crafted moral fable, as if Kafka had gone to Latin America for his source materials" (Russell Banks).
About the Author
Horacio Castellanos Moya was born 1957 in Honduras. He has lived in San Salvador, Canada, Costa Rica, Mexico (where he spent ten years as a journalist, editor, and political analyst), Spain, and Germany. In 1988 he won the National Novel Prize from Central American University for his first novel. His work has been published and translated in England, Germany, El Salvador and Costa Rica. He has published ten novels and is now living in exile as part of the City of Asylum project in Pittsburgh, Pennsylvania.

Katherine Silver is an award-winning literary translator and the codirector of the Banff International Literary Translation Centre (BILTC). Her translations include works by Cesar Aira, Horacio Castellanos Moya, Jose Emilio Pacheco, Elena Poniatowska, Jorge Franco, and Martin Adan, among others.
Praise For The She-Devil in the Mirror…
The only writer of my generation who knows how to narrate the horror, the secret Vietnam that Latin America was for a long time.
— Roberto Bolaño

He has put El Salvador on the literary map.
— Natasha Wimmer

Like Kafka, Moya keeps an ironic eye trained on the way in which bureaucracies become corollaries of dictatorships….His leaps from absurdity to terror and back again are like something out of The Castle.

— Tommy Wallach

Castellanos Moya's narrator is delightfully paranoid and obsessed.
— Joshua Marcus

Humor amid the madness and evil. Don't let the breezy, often funny and frequently irreverent tone fool you.
— John Greenya

Dark and comic, at turns violent and oddly erotic.
— Nate Martin

This book reads beautifully…and is quite captivating. Looks like Moya's reputation will continue to grow for years to come.
— Chad Post

[It] careen[s] with such giddy enthusiasm.
— Don Sjoerdsma