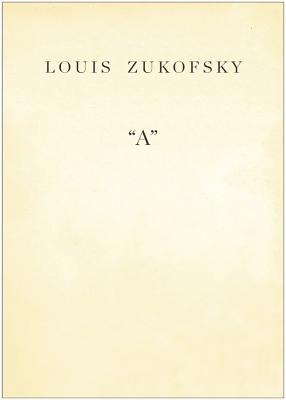 "A" (Paperback)
New Directions, 9780811218719, 846pp.
Publication Date: January 31, 2011
* Individual store prices may vary.
Description
The new, authoritative edition of "A": the monumental lifepoem by one of the most important American poets of the twentieth century, Louis Zukofsky.
     River that must turn full after I stop dying

     Song, my song, raise grief to music

     Light as my loves' thought, the few sick

     So sick of wrangling: thus weeping,

     Sounds of light, stay in her keeping

     And my son's face – this much for honor
           — from " 'A'-11"
At long last, here is the whole of Louis Zukofsky's epic masterpiece
"A"
back in print with misprints corrected and a new, fresh introduction by the noted scholar Barry Ahearn. No other poem in the English language is filled with as much daily love, light, intellect, and music. As William Carlos Williams once wrote of Zukofsky's poetry, "I hear a new music of verse stretching out into the future."
About the Author
Louis Zukofsky spent forty-six years writing his masterwork "A," and died before he could see the completed version published. Poet, translator, fiction writer, essayist, anthologist, critic, teacher, WPA worker, and binding force of the Objectivist poets, Zukofsky was born in New York City and lived in or near the city his whole life.

Barry Ahearn is the Pierce Butler Professor of English at Tulane University. His books include Zukofsky's "A": An Introduction, Pound/Zukofsky: Selected Letters, and The Correspondence of William Carlos Williams and Louis Zukofsky.
Praise For "A"…
'A' 's place is in the great line of American personal epic begun in Song of Myself and stretching through the Cantos, Paterson, Notes Toward a Supreme Fiction, and The Dream Songs. It should be read.


Zukofsky's art, in this work, is without equal. No poet of our time can
sound the resources of language, so actuate words to become all that
they might be thought otherwise to engender.
— Robert Creeley

Magnificent: a great poem really rolling in all its power and splendor of
language.
— James Laughlin

'A' belongs in the company of the major modernist epics such as Pound's Cantos or Williams' Patterson. It will repay as much attention as it is given.
— Bob Perelman

The poem is "of a life," but the life that it presents is closer to life-as-experienced than life as narrated or told. And that, in the final analysis, is precisely the essence of Zukofsky's genius.
— Mary Wilson