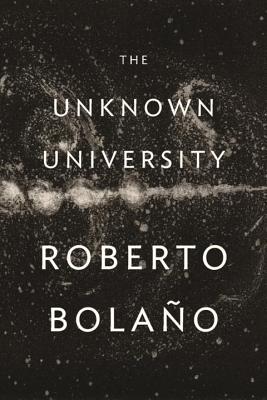 The Unknown University
Hardcover

* Individual store prices may vary.
Description
A deluxe edition of Bolano's complete poetry
Perhaps surprisingly to some of his fiction fans, Roberto Bolano touted poetry as the superior art form, able to approach an infinity in which "you become infinitely small without disappearing." When asked, "What makes you believe you're a better poet than a novelist?" Bolano replied, "The poetry makes me blush less." The sum of his life's work in his preferred medium,
The Unknown University
is a showcase of Bolano's gift for freely crossing genres, with poems written in prose, stories in verse, and flashes of writing that can hardly be categorized. "Poetry," he believed, "is braver than anyone."
Praise For The Unknown University…
There are moments of bliss. Bolano had one of 20th-century literature's great dirty minds, and many of this volume's best lines are unpublishable here.... A handful of these poems are something akin to sly masterpieces.... The sound The Unknown University mostly makes is that of a promising young writer seeking his way in the world of words.... Bolano was hungry, this book reminds you, for just about everything.

— Dwight Garner - The New York Times

The Unknown University, a new anthology of Bolano's poetry, reads like a series of fragments from a diary of this epic artistic journey. It's a book filled with sorrows and joys and discoveries as Bolano the poet takes up themes that are repeated often in his novels. For him, writers are men and women engaged in a sacred search, with poets the purest seekers of all. It's a pursuit that's all the more noble, given that Bolano knows that the immortality writers seek is unattainable.

— Los Angeles Times

It is his earliest work published in English to date, and fans of The Savage Detectives will hope to find in it some hints of what the real Visceral Realist poetry was like.... It is a testament to Bolano's fundamental artistic honesty that buried here, in his own long-lost notebook, we find Cesárea Tinajero's poem/drawing, written twenty years earlier. He was the master of smoke and mirrors, but he couldn't lie.

— The Millions
New Directions, 9780811219280, 772pp.
Publication Date: July 11, 2013
About the Author
Author of 2666 and many other acclaimed works, Roberto Bolano (1953-2003) was born in Santiago, Chile, and later lived in Mexico, Paris, and Spain. He has been acclaimed "by far the most exciting writer to come from south of the Rio Grande in a long time" (Ilan Stavans, The Los Angeles Times)," and as "the real thing and the rarest" (Susan Sontag). Among his many prizes are the extremely prestigious Herralde de Novela Award and the Premio Rómulo Gallegos. He was widely considered to be the greatest Latin American writer of his generation. He wrote nine novels, two story collections, and five books of poetry, before dying in July 2003 at the age of 50.

Laura Healy has received a Master's in Spanish from Harvard. She is the managing editor of Harvard Review and the web editor of Zoland Poetry.