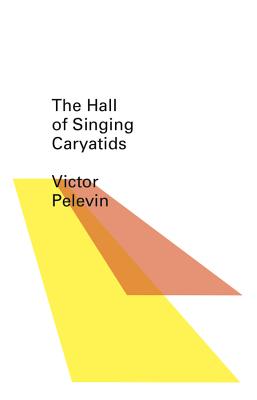 The Hall of the Singing Caryatids (New Directions Pearls) (Paperback)
New Directions, 9780811219426, 96pp.
Publication Date: October 27, 2011
* Individual store prices may vary.
Description
A far-out, far-fetched, and fiendishly funny story about a strange nightclub and its outrageous entertainment.
After auditioning for the part as a singing geisha at a dubious bar, Lena and eleven other "lucky" girls are sent to work at a posh underground nightclub reserved exclusively for Russia's upper-crust elite. They are to be a sideshow attraction to the rest of the club's entertainment, and are billed as the "famous singing caryatids." Things only get weirder from there. Secret ointments, praying mantises, sexual escapades, and grotesque murder are quickly ushered into the plot. The Russian literary master Victor Pelevin holds nothing back, and
The Hall of the Singing Caryatids
, his most recent story to be translated into English, is sure to make you squirm in your seat with utter delight.
About the Author
Victor Pelevin is one of Russia's most successful post-Soviet writers. He won the Russian Booker prize in 1993 Born on November 22, 1962 in Moscow, he attended the Moscow Institute of Power Engineering, and the Institute of Literature. He's now been published throughout Europe. His books include A Werewolf Problem in Central Russia, Omon Ra, The Blue Lantern, The Yellow Arrow, and The Hall of the Singing Caryatids.

Born in Yorkshire, England, Andrew Bromfield is a translator of Russian literature and an editor and co-founder of the literary journal Glas.
Praise For The Hall of the Singing Caryatids (New Directions Pearls)…
The book's concluding pages are delightfully enigmatic, fogged over just enough with metaphor that it's impossible to say quite what happens. Likewise, we never really know if the mantis has empowered Lena or seduced her into shameful political violence. That's all toward the beauty of Pelevin's project: a satire sharp enough to score points against the malign, yet retentive of a fine negative capability that takes these very same targets and makes of them a document that shimmers with the evasiveness of art.
— Scott Esposito

If you're familiar with Pelevin—his borderline farce, his taste for the supernatural, his merciless skewering of the social order—you'll find, in this novella, a succinct recapitulation of his major themes. And if not? Fuck it. Who else can pack a spy school for prostitutes, fake quotes from Kate Moss and Vladimir Nabokov, a martial art based on curse words, and a guy called The Last Russian Macho into 100 pages? Pelevin's writing doesn't need to be analyzed. It's a guided dream through all the stuff that gets redacted from Russia's state-sponsored press releases. It's the literature that Russia deserves.