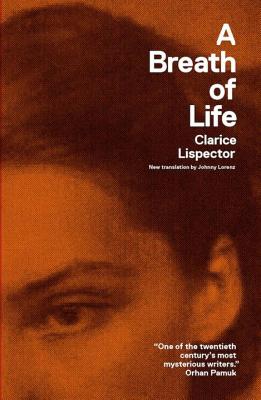 A Breath of Life
Paperback

* Individual store prices may vary.
Description
A mystical dialogue between a male author and his creation, this posthumous work has never before been translated, and is a book of particular beauty and strangeness.
A mystical dialogue between a male author (a thinly disguised Clarice Lispector) and his/her creation, a woman named Angela, this posthumous work has never before been translated. Lispector did not even live to see it published.
At her death, a mountain of fragments remained to be "structured" by Olga Borelli. These fragments form a dialogue between a god-like author who infuses the breath of life into his creation: the speaking, breathing, dying creation herself, Angela Pralini. The work's almost occult appeal arises from the perception that if Angela dies, Clarice will have to die as well. And she did.
Praise For A Breath of Life…
Both dazzling and difficult.
— San Francisco Chronicle

The raw, demanding pace and the dialogic form of A Breath of Life provoke an urgent meditation on life, self, and time. In fact, reading this novel may be a form of meditation.

— Full Stop

One of 20th-century Brazil's most intriguing and mystifying writers.
— The L Magazine

I had a sort of missionary urge with her...but I started thinking, even when I was 19: How can I help this person reach the prominence she deserves?
— Benjamin Moser - San Francisco Chronicle
New Directions, 9780811219624, 220pp.
Publication Date: June 13, 2012
About the Author
Clarice Lispector (1920–1977), the greatest Brazilian writer of the twentieth century, has been called "astounding" (Rachel Kushner), "a penetrating genius" (Donna Seaman, Booklist), and "one of the twentieth century's most mysterious writers" (Orhan Pamuk).

Johnny Lorenz, son of Brazilian immigrants to the United States, was born in 1972. He received his doctorate in English from the University of Texas at Austin in 2000, and he is an associate professor at Montclair State University. In 2013, he was a finalist for Best Translated Book for his translation of A Breath of Life by Clarice Lispector (New Directions). His book of original poems, Education by Windows, was published in 2018 by Poets & Traitors Press; it includes his translations of the poet Mario Quintana, for which he received a Fulbright grant. He has published articles on Brazilian literature in journals such as Luso-Brazilian Review and Modern Fiction Studies. He is also the translator of Lispector's The Besieged City (New Directions).

Benjamin Moser, the author of Why This World: A Biography of Clarice Lispector, is the editor of ND's Clarice Lispector translation series, of which this is the ninth volume. For Sontag: Her Life and Work, he won the Pulitzer Prize.