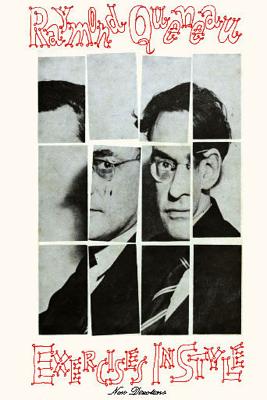 Exercises in Style
Paperback

* Individual store prices may vary.
Description
A new edition of a French modernist classic - a Parisian scene told ninety-nine different ways - with new material written in homage by the likes of Jonathan Lethem, Rivka Galchen, and many more.
On a crowded bus at midday, Raymond Queneau observes one man accusing another of jostling him deliberately. When a seat is vacated, the first man appropriates it. Later, in another part of town, Queneau sees the man being advised by a friend to sew a new button on his overcoat.
Exercises in Style — Queneau's experimental masterpiece and a hallmark book of the Oulipo literary group — retells this unexceptional tale ninety-nine times, employing the sonnet and the alexandrine, onomatopoeia and Cockney. An "Abusive" chapter heartily deplores the events; "Opera English" lends them grandeur. Queneau once said that of all his books, this was the one he most wished to see translated. He offered Barbara Wright his "heartiest congratulations," adding: "I have always thought that nothing is untranslatable.Here is new proof."
To celebrate the 65th anniversary of the 1947 French publication of Exercises de Style, New Directions has asked several writers to contribute new exercises as a tribute. Tantalizing examples include Jonathan Lethem's "Cyberpunk," Harry Mathew's "Phonetic Eros," and Frederic Tuten's "Beatnik" exercises. This edition also retains Barbara Wright's original introduction and reminiscence of working on this book — a translation that in 2008 was ranked first on the Author's Society's list of "The 50 Outstanding Translations of the Last 50 Years."
Praise For Exercises in Style…
Queneau's Exercises in Style is a thrilling masterpiece and, in fact, one of the greatest stories in French literature.

— Vladimir Nabokov

Exercises in Style was a revolution, a book that proclaimed its powerful ideas simply by pursuing their iron logic.

— The Washington Post

What makes the book compelling is seeing this same, banal tale told
through a huge variety of literary styles, from science fiction to
rhyme, haiku to official letter. The variety in its repetition becomes
at first odd, then hilarious as more and more absurd forms are chosen.
— The Huffington Post

This witty, bizarre read is perfect for dipping into, or reading from cover to cover, for anybody who loves storytelling.
— The Huffington Post

It will remind you of just how weird and infinite human language is.
— Raphael Rubinstein - BOMBlog

Exercises in Style is an irresistibly simple and frequently hilarious demonstration of the potential of language.

— The Believer Logger

It's fair to say that Exercises in Style turns the current thinking about writing entirely, and brilliantly, on its head.

— Yuka Igarashi - The New Inquiry

It's a testament to Queneau's ability as a writer, and just as interestingly, it sort of blows apart the idea of how many ways a story can be told—and how style can be more important than content.
— Chad W. Post - Three Percent
New Directions, 9780811220354, 228pp.
Publication Date: January 31, 2013
About the Author
Raymond Queneau (1903-1976) is acknowledged as one of the most influential of modern French writers, having helped determine the shape of twentieth-century French literature, especially in his role with the Oulipo, a group of authors that includes Italo Calvino, Georges Perec, and Harry Mathews, among others.

Barbara Wright has translated several Raymond Queneau novels; indeed, as John Updike wrote in The New Yorker, she "has waltzed around the floor with the Master so many times by now that she follows his quirky French as if the steps were in English." She has also translated works by Alain Robbe-Grillet, Robert Pinget, Nathalie Sarraute, and Marguerite Duras. She lives in London.