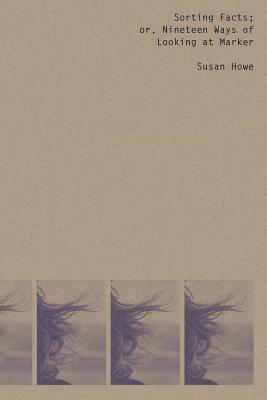 Sorting Facts, or Nineteen Ways of Looking at Marker (New Directions Poetry Pamphlets) (Paperback)
New Directions, 9780811220392, 48pp.
Publication Date: March 26, 2013
* Individual store prices may vary.
Description
Part of our revived "Poetry Pamphlet Series", Sorting Facts is Susan Howe's masterful meditation on the filmmaker Chris Marker, whose film stills are interspersed throughout.
An excerpt:
Sorting word-facts I only know an apparition. Scribble grammar

has no neighbor. In the name of reason I need to record something

because I am a survivor in this ocean.
About the Author
Susan Howe has won the Bollingen Prize, the Frost Medal, and the Griffin Award. She is the author of such seminal works as Debths, That This, The Midnight, My Emily Dickinson, The Quarry, and The Birthmark.
Praise For Sorting Facts, or Nineteen Ways of Looking at Marker (New Directions Poetry Pamphlets)…
One way of understanding Sorting Facts as it appears in this cultural moment — though surely different times and subsequent readings will fade certain colors and deepen others — is as a premonitory exegesis of this registration of the fact of Marker's death. And so to encounter the essay now is to see in it a memory of the future: a premonition of an annotation.

— Rebecca Ariel Porte