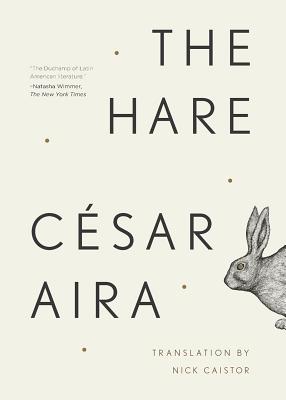 The Hare
Paperback

* Individual store prices may vary.
Description
When a Mapuche chief suddenly goes missing, a British naturalist is asked to find him in the vast Argentine pampas
Clarke, a nineteenth-century English naturalist, roams the pampas in search of that most elusive and rare animal: the Legibrerian hare, whose defining quality seems to be its ability to fly. The local Indians, pointing skyward, report recent sightings of the hare but then ask Clarke to help them search for their missing chief as well. On further investigation Clarke finds more than meets the eye:in the Mapuche and Voroga languages every word has at least two meanings.Witty, very ironic, and with all the usual Airian digressive magic,
The Hare
offers subtle reflections on love, Victorian-era colonialism, and the many ambiguities of language.
Praise For The Hare…
To love the novels of Cesar Aira you must have a taste for the absurd, a tolerance for the obscurely philosophical and a willingness to laugh out loud against your better judgment.... The Hare makes the flat, monotonous pampas as strange and unpredictable as Wonderland.... you'll find there are few adventures more outrageous, and more unsettling, than this cowboy chase through the pampas in search of the white rabbit.

— NPR

The novel moves erratically, never quite landing where you think, and as mysterious subplot after subplot is introduced, one may be forgiven for suspecting that Aira is playing a joke at the expense of the reader, but in his masterful hands, ambiguity eventually builds to order, mystery to revelation, and every digression turns out to have a purpose — all without ever undercutting the fundamental tension that Aira has created between his reasoned protagonist and the novel's ambiguous setting.
— Publishers Weekly

Aira's refusal to make any occurrence definitive gives the world depicted in the novel an element of the absurd. The result can be as frustrating as it is liberating. Whether or not Clarke ultimately catches sight of the hare is beside the point. Even if he found it, we'd soon discover that, maybe, after all, he didn't. Or that it wasn't a hare at all.
— The Daily Beast

Aira's literary significance, like that of many other science fiction writers, comes from how he pushes us to question the porous line between fact and fantasy, to see it not only as malleable in history, but also blurred in the everyday. The engrossing power of his work, though, comes from how he carries out these feats: with the inexhaustible energy and pleasure of a child chasing after imaginary enemies in the park.
— Los Angeles Review of Books
New Directions, 9780811220903, 224pp.
Publication Date: July 25, 2013
About the Author
Nominated for a Neustadt award and the Man Booker International Prize, César Aira was born in Coronel Pringles, Argentina, in 1949. He has published at least one hundred books and recently created a limited edition, "Valise," for the Museum of Modern Art, NYC.

Nick Caistor is a translator, editor, and author. He has written a biography of Octavio Paz and has translated the works of José Saramago, Paulo Coelho, and Julián Ríos, among others.