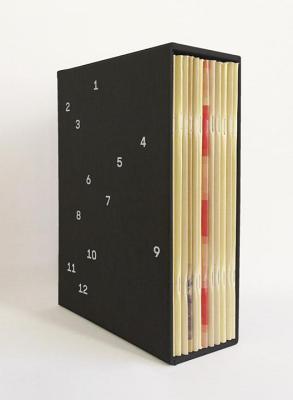 Poetry Pamphlets 1-12 (Boxed Set) (New Directions Poetry Pamphlets)
Paperback

* Individual store prices may vary.
Other Editions of This Title:
Paperback (1/27/2014)
Description
Collections 1-12 in New Directions' Poetry Pamphlet series
This boxed set of the first twelve collections in the New Directions Poetry Pamphlet series contains:
Osama Alomar's Fullbood Arabian

H. D.'s Vale Ave

Lawrence Ferlinghetti's Blast Cries Laughter

Forrest Gander's Eiko & Koma

Oliverio Girondo's Poems to Read on a Streetcar

Susan Howe's Sorting Facts, or 19 Ways of Looking at Chris Marker

Sylvia Legris's Pneumatic Antiphonal

Bernadette Mayer's The Helens of Troy, New York

Dunya Mikhail's 15 Iraqi Poets

Alejandra Pizarnik's A Musical Hell

Nathaniel Tarn's The Beautiful Contradictions

Lydia Davis & Eliot Weinberger's Two American Scenes
New Directions, 9780811221849, 600pp.
Publication Date: January 27, 2014
About the Author
Osama Alomar
was born in Damascus, Syria in 1968 and now lives in Chicago. A poet, short-story writer, and musician, Alomar is the author of three collections of short stories and a volume of poetry. He is a regular contributor to various newspapers and journals within the Arab world.
Lydia Davis
is the author of one novel and seven story collections. Her collection
Varieties of Disturbance: Stories
was a finalist for the 2007 National Book Award. She is the recipient of a MacArthur fellowship, the American Academy of Arts and Letters' Award of Merit Medal, and was named a Chevalier of the Order of the Arts and Letters by the French government for her fiction and her translations of modern writers, including Maurice Blanchot, Michel Leiris, and Marcel Proust. Lydia Davis is the winner of the 2013 Man Booker International Prize.
A feminist icon as well as a major twentieth-century poet,
H. D.
(the pen name of Hilda Doolittle, 1886–1961) wrote several volumes of poetry, fiction, and nonfiction and was an exquisite translator of classical Greek drama.
In 1953 Lawrence Ferlinghetti cofounded City Lights, the first paperback bookstore in the United States, a Mecca for millions. His
Coney Island of the Mind
is one of the best-selling volumes of poetry by any living American poet. Born in Yonkers, New York, in 1919, Ferlinghetti has received the Robert Frost Memorial Medal and the first Literarian Award of the National Book Foundation.
FORREST GANDER
lives in northern California and has published books of poems, translations, and essays. He has won numerous awards, including the Pulitzer Prize for
Be With
, and the Best Translated Book Award, as well as fellowships from the Library of Congress, the Guggenheim Foundation, and United States Artists.
Oliverio Girondo
was born in Buenos Aires, Argentina in 1891, and the author of seven innovative books of poetry. He traveled often to Europe where he forged ties with the French Symbolists and the Spanish avant-garde. Girondo eventually died from injuries sustained in a 1964 car accident in 1967.
Susan Howe has won the Bollingen Prize, the Frost Medal, and the Griffin Award. She is the author of such seminal works as
Debths
,
That
This
,
The
Midnight
,
My
Emily
Dickinson
,
The
Quarry
, and
The
Birthmark
.
Sylvia Legris
was born in Winnipeg, Manitoba, and now lives in Saskatoon, Saskatchewan. Her poems have appeared in the New Yorker, Conjunctions, and Granta, and her third collection of poetry, Nerve Squall, won the 2006 Griffin Poetry Prize.
Called "a consummate poet" by Robert Creeley,
Bernadette Mayer
was born in Brooklyn, New York, in 1945. A most prolific poet, her first book was published at the age of twenty-three. Many texts later she continues to write progressive poetry from her home in East Nassau, New York. For many years Mayer lived and worked on the Lower East Side of Manhattan where she was the Director of St. Mark's Poetry Project from 1980-1984. Bernadette Mayer has received grants and awards from PEN American Center, The Foundation for Contemporary Performance Art, the NEA, The Academy of American Poets, and The American Academy of Arts and Letters.
Dunya Mikhail was born in Baghdad, Iraq, and moved to the United States thirty years later in 1995. After graduating from the University of Baghdad, she worked as a journalist and translator for the Baghdad Observer. Facing censorship and interrogation, she left Iraq, first to Jordan and then to America, settling in Detroit. New Directions published her books
The Beekeeper: Rescuing the Stolen Women of Iraq
,
The Iraqi Nights
,
Diary of A Wave Outside the Sea
, and
The War Works Hard
—chosen as one the New York Public Library's Books to Remember in 2005—as well as her edited volume,
15 Iraqi Poets
. She has received a Guggenheim Fellowship, a Knights Foundation grant, a Kresge Fellowship, and the United Nations Human Rights Award for Freedom of Writing, and works as a special lecturer of Arabic at Oakland University in Michigan.
Alejandra Pizarnik
(1936–1972) was born in Argentina and educated in Spanish and Yiddish. In addition to poetry, Pizarnik also wrote experimental works of theater and prose. She died of a deliberate drug overdose at the age of thirty-six.
The American poet
Nathaniel Tarn
was born in Paris in 1928 and emigrated to the US in 1970, where he has lived ever since, mostly in the New Mexican desert. A leading anthropologist for many years and a pioneering translator of Pablo Neruda and Victor Segalen, Tarn, "one of the most outstanding poets of his generation" (Kenneth Rexroth), has published more than thirty books of poetry, essays, and translations—including most recently,
The Beautiful Contradictions
and
Ins and Outs of the Forest Rivers
, both available from New Directions.
Eliot Weinberger
is an essayist, editor, and translator. He lives in New York City.
or
Not Currently Available for Direct Purchase