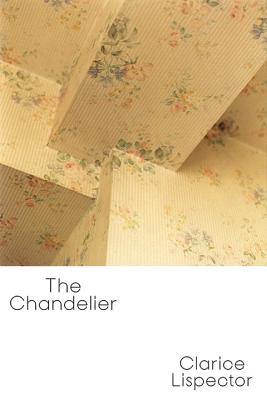 The Chandelier
Hardcover

* Individual store prices may vary.
Other Editions of This Title:
Paperback (5/28/2019)
Description
Now, for the first time in English we have Clarice Lispector's second novel—a radical part of what made her a Brazilian legend
Fresh from the enormous success of her debut novel 
Near to the Wild Heart
, Hurricane Clarice let loose something stormier with 
The Chandelier
. In a body of work renowned for its potent idiosyncratic genius, 
The Chandelier
 in many ways has pride of place. "It stands out," her biographer Benjamin Moser noted, "in a strange and difficult body of work, as perhaps her strangest and most difficult book." Of glacial intensity, consisting almost entirely of interior monologues—interrupted by odd and jarring fragments of dialogue and action—the novel moves in slow waves that crest in moments of revelation. As Virginia seeks freedom via creation, the drama of her isolated life is almost entirely internal: from childhood, she sculpts clay figurines with "the best clay one could desire: white, supple, sticky, cold. She got a clear and tender material from which she could shape a world. How, how to explain the miracle ..." While on one level simply the story of a woman's life, 
The Chandelier
's real drama lies in Lispector's attempt "to find the nucleus made of a single instant ... the tenuous triumph and the defeat, perhaps nothing more than breathing." 
The Chandelier
 pushes Lispector's lifelong quest for that nucleus into deeper territories than any of her other amazing works.
Praise For The Chandelier…
Lispector's signature narrative style, which borders on stream-of-consciousness, is the vehicle for Virginia's existential dilemmas and her observations about a world from which she often seems removed. The Chandelier includes all the earmarks of Lispector's other work, too: a deep anguish, a search for the heart of human existence, and the unbearable weight of a solitude that is imperative to ultimate freedom.
— Eric Becker - Americas Quarterly

It is a lyrical outpouring of sensation and perception...Lispector is up to some extraordinary things.
— Martin Riker - New York Times Book Review

The revival of the hypnotic Clarice Lispector has been one of the true literary events of the 21st century.
— Parul Sehgal - New York Times Book Review

It's a shaggy stop-motion masterpiece, plotless and argument-less and obsessed with the nature of thought....Every page vibrates with feeling. It's not enough to say that Lispector bends language, or uses words in new ways. Plenty of modernists do that. No one else writes prose this rich.
— Lily Meyer - NPR

Lispector's second novel is a breathless, dizzying and multi­sensory dive into the mind...The first English translation of The Chandelier is a major event, offering the anglophone world an insight into Lispector's early grappling with the shapes and rhythms of thought.

— The Times Literary Supplement

The Chandelier is an extraordinary book.

— Reinaldo Laddaga - 4Columns

A vulnerable and moving performance—with a heart-stopping payoff....an undeniable quantity of genius.
— Parul Sehgal - New York Times Book Review

Lispector's signature brilliance lies in the minutely observed gradations of her characters' feelings and of their elusive, half-formed thoughts.
— Kirkus

The Chandelier will reward those who enjoy challenging works about the power of the mind and about how we might grow up—without destroying who we have been, without fearing who we might come to be.

— Music & Literature

This is a haunting family fable, and will fascinate those seeking a glimpse at Lispector's genius in development.
— Publishers Weekly

[L]yrical, sensual, philosophical...gorgeous, unsettling prose...
— The Nation

One of the twentieth century's most mysterious writers. 
— Orhan Pamuk

Better than Borges.
— Elizabeth Bishop

Utterly original and brilliant, haunting and disturbing.
— Colm Tóibín

The Chandelier is not a book to be read at a fast pace, but rather one to be slowly sipped and savored, a few pages at a time—one that forces us to find other modes of reading, of approaching literature, committed to finding the pleasures of the text.

— Christina Soto van der Plas - The Los Angeles Review of Books

Virginia's memory of the chandelier as an adult is as strange and ambiguous as the rest of the moments in the novel, deeply introspective and without a clear meaning, but the energy and spiritual wonder of her descriptions make the cryptic writing all the more resonant and spiritually urgent for both her character and her reader.
— Mike Broida - Electric Lit
New Directions, 9780811223133, 304pp.
Publication Date: March 27, 2018
About the Author
Clarice Lispector (1920–1977), the greatest Brazilian writer of the twentieth century, has been called "astounding" (Rachel Kushner), "a penetrating genius" (Donna Seaman, Booklist), and "one of the twentieth century's most mysterious writers" (Orhan Pamuk).

Benjamin Moser, the author of Why This World: A Biography of Clarice Lispector, is the editor of ND's Clarice Lispector translation series, of which this is the ninth volume. For Sontag: Her Life and Work, he won the Pulitzer Prize.

Magdalena Edwards is a writer, translator, and actor. Her work has appeared in the Boston Review, the Paris Review Daily, the Los Angeles Review of Books, and the Millions.
or
Not Currently Available for Direct Purchase