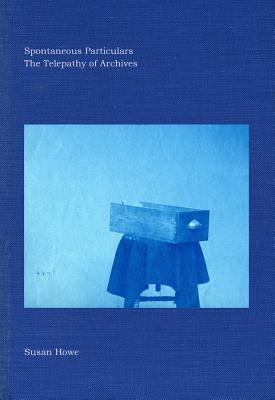 Spontaneous Particulars (Hardcover)
The Telepathy of Archives
New Directions / Christine Burgin, 9780811223751, 64pp.
Publication Date: October 14, 2014
Other Editions of This Title:
Paperback (5/26/2020)
* Individual store prices may vary.
About the Author
Susan Howe has won the Bollingen Prize, the Frost Medal, and the Griffin Award. She is the author of such seminal works as Debths, That This, The Midnight, My Emily Dickinson, The Quarry, and The Birthmark.
Praise For Spontaneous Particulars: The Telepathy of Archives…
A near-mystical
account of a subject researching and reveling in the sanctuary of the
library, alongside the forceful expression of a modernist will, one
collecting the detritus of effaced histories to construct a shimmering
new plane of knowledge and engagement.

Susan Howe has often referred to herself as a ''library cormorant'' but in this gorgeously produced book, her extraordinary telepathy of archives is the very opposite of passive absorption. Hers is a carefully constructed textile world, where the spirit of Keats' ''Ode to a Nightingale'' enters Henry James' Milly Theale, a world where William Carlos Williams's prescription blanks oddly echo the fragments of Emily Dickinson, and where Charles Sanders Peirce's 'blue' doodles open up the charged lexicon of Jonathan Edwards. Howe knows that text never reflects or merely matches image; each page constructs its own ghostly skein to be woven into what becomes an increasingly mysterious figure in the carpet. What begins as archival study becomes nothing less than mesmerism.

— Marjorie Perloff

As they evolve, electronic technologies are radically transforming the way we read, write, and remember. The nature of archival research is in flux....While I realize that these technologies offer new and often thrilling possibilities for artists and scholars, Spontaneous Particulars: The Telepathy of Archives is a collaged swan song to the old ways.

— Susan Howe