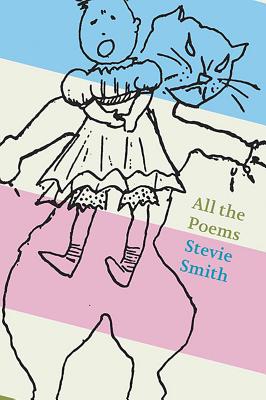 All The Poems (Hardcover)
Stevie Smith
New Directions, 9780811223805, 704pp.
Publication Date: February 22, 2016
* Individual store prices may vary.
Description
The essential edition of one of modern poetry's most distinctive voices
Stevie Smith is among the most popular British poets of the twentieth century. Her poem "Not Waving but Drowning" has been widely anthologized, and her life was celebrated in the classic 1978 movie
Stevie
. This new and updated edition of Stevie Smith's collected poems includes hundreds of works from her thirty-five-year career. The Smith scholar Will May collects poems and illustrations from published volumes, provides fascinating details about their provenance, and describes the various versions Smith presented. Satirical, mischievous, teasing, disarming, Smith's poems take readers from comedy to tragedy and back again, while her line drawings are by turns unsettling and beguiling.
About the Author
Stevie Smith (1902-1971) was the author of three novels and nine poetry volumes and lived almost her whole life in northern London. She was officially recognized with the Cholmondeley Award for Poetry in 1966 and the Queen's Gold Medal for poetry in 1969.

Will May is author of Stevie Smith and Authorship (Oxford University Press, 2010)
Praise For All The Poems: Stevie Smith…
A landmark volume brimming with wit, surprises, sardonic pleasures, and abiding compassion.
— Donna Seaman

Now, forty-five years after her death, bound inside this large annotated collection, [Smith] can be celebrated as a major English poet of the twentieth century. She is a writer of astonishing skill, range, comedy, and depth of feeling; she is inimitable, strange, and utterly original.
— Hermione Lee

She is a great poet because almost half a century after her death, her poems are more startling and bizarre than those of many poets who deliberately set out, as one suspects Smith never did, to be startling and bizarre.
— David Orr

A rare bird, a Maltese falcon. A more individual talent than Stevie Smith's you don't get.
— Clive James

That sense of the uncanny, the unheimlich or the peculiar, the grip of childhood terrors, the chance—perhaps our greatest fear—of never being known, the intimacy of wickedness, they are all here, in these poems.

— Cynthia Zarin

Smith's great gift is to sit on our shoulder like a feisty bird that's traveled a long distance, has been half starved on the way, and hopes your map will be a different from hers.
— Barbara Berman

A poet who deserves a place, among her follow modernists, as one of the best, silly-serious, funny-sad, mock mock-heroic poets of our time.
— Angela Leighton

Those crazy about this wonderful and strange poet will obviously want Will May's splendid All the Poems

— Michael Dirda

There is variety and inventiveness, much humor and understanding and a constant poignancy. Her gift was to create a peculiar emotional weather between the words, a sense of pity for what is infringed and unfulfilled. Death, waste, loneliness, cruelty, the maimed, the stupid, the innocent, the trusting—her concerns were central ones, her compassion genuine and her vision almost tragic.
— Seamus Heaney

I am a desperate Stevie Smith addict.
— Sylvia Plath

My senses sharpen at the words of Stevie Smith.
— Morrissey