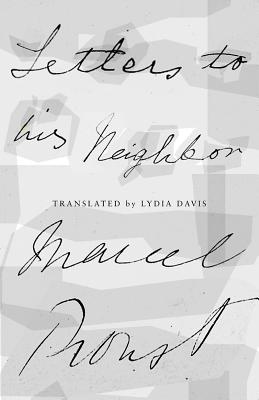 Letters to His Neighbor
Hardcover

* Individual store prices may vary.
Description
Brilliantly translated by Lydia Davis, here are Proust's tormented, touching, and often very funny letters to his noisy neighbor.
Marcel Proust's genius for illuminating pain is on spectacular display in this recently discovered trove of his correspondence, Letters to His Neighbor. Already suffering from noise within his cork-lined walls, his poor soul was not ready for the fresh hell when his neighbor Dr. Williams married a widow with small children.
Chiefly to Mrs. Williams, these ever-polite letters (often accompanied by flowers, compliments, books, even pheasants) are frequently hilarious—Proust couches his fury in a gracious tone. In Lydia Davis's hands, the digressive brilliance of his sentences shines: "Don't speak of annoying neighbors, but of neighbors so charming (an association of words contradictory in principle since Montesquiou claims that most horrible of all are 1) neighbors 2) the smell of post offices) that they leave the constant tantalizing regret that one cannot take advantage of their neighborliness."
Proust makes fine distinctions among his auditory torments: "The valet de chambre makes noise and that doesn't matter. But later he knocks with little tiny raps.  And that is worse."
Lydia Davis has written a generous translator's note, tracing much of what we can know about Proust's perpetually dark room; she details the furnishings as well as the life he lived there: burning his powders, talking with friends, hiring musicians, and, most of all, suffering. Letters to His Neighboris richly illustrated with facsimile letters and photographs—catnip for lovers of Proust.
With an Introduction by Jean-Yves Tadié and a translator's note by Lydia Davis.

Praise For Letters to His Neighbor…
I imagine someone discovering these letters and wondering where to put
them—too quirky, too crazy, too minor, too marginal. But, as we all
know, it's the minor and marginal that are often the most interesting.
And here the marginalia—the addenda and notes—are as essential as the
letters. The foreword by Proust scholar Jean-Yves Tadié and the
afterword by celebrated French translator Lydia Davis serve as codes to
these letters, through which we catch a glimpse of the writer's
idiosyncratic domestic life...
— Jeanine Herman - 4Columns

Proust elevated grumbling to an art.
— Jessica Leigh Hester - City Lab

"A collection of letters to the neighbours about noise would seem unpromising material for a book, unless they were written by Marcel Proust, who was so sweet, kind, funny and charming that his letters of complaint, written between 1909 and 1919 to Marie Williams and her husband, are a delightful surprise."
— Daily Telegraph

Amusing.
— Elle

One wonders if the headaches of apartment living might even have inspired him, as a worthy enemy might goad one to action.
— Harper's

Even
literary greats, it turns out, are not immune to the vagaries of
apartment living, as proved by this slim but enchanting volume of
recently recovered letters. While
living at 102 Boulevard Haussmann in Paris, Proust found his
already-frayed nerves and delicate health strained to their breaking
point by an office directly overhead belonging to an American dentist.
Proust thus embarked on a charm offensive against his neighbors, writing
primarily to the dentist's French wife, Marie, who lived with her
husband elsewhere in the building. Though born of frustration, the
correspondence also brought rewards, as Proust found himself in
empathetic accord with this artistically inclined woman, seemingly
constrained by her life as a dentist's wife. Proust and Marie also
suffered from frequent illnesses, a topic over which they seem to have
bonded. The letters start in approximately 1909 and continue until 1916.
Though the overall picture is fractured by the fact that we do not have
Marie's side of the story, Proust's letters brim with wit, grace, and
reflection. Context is provided by an introduction by Proust biographer
Jean-Yves Tadié and a translator's note by Davis, who previously
translated Swann's Way.
— Publishers Weekly

Like the discovery of the Dead Sea Scrolls in the caves of Qumran... twenty-six of Proust's letters to his upstairs neighbor, written over a decade during the composition of In Search of Lost Time, will delight any Proustian and will tide the faithful over until new relics come to light.

— David Wiley - Rain Taxi

Entertaining.
— Kevin Canfield - Star Tribune

If you have suffered from noisy neighbours, you will sympathize with Marcel Proust.
— The Times Literary Supplement

Letters to His Neighbor, brilliantly translated by Lydia Davis, is inadvertently hilarious in hyper-genteel poise; we see Proust at his most desperate, charming to the extreme, an effect no doubt amplified by Davis's elegant prose.

— The Village Voice

Literary people know that at the sentence level and the word level Lydia Davis is the best there is.
— Michael Silverblatt - Bookworm

A trove of charming correspondence from literature's most famous 'noise phobic.'
— Kirkus

In true Proustian fashion, the prose is winding, musing on everything from the properties of imagination.
— Caitlin Youngquist - The Paris Review

A sensitive and direct translation. Lydia Davis does us a great service in bringing back Proust.
— Claire Messud - Newsday

Thoughtfully curated in English by New Directions with a scholarly and rigorous afterword by translator Lydia Davis, the letters are inflected by fine observations and moments of deep empathy. They are suffused with the intimate textures of daily life—flowers and fragrance—and allow us an insight into the larger social context of the time, with reports of the wounded returning from war. Thematically, they are often concerned with art, poetry, and ruins. As a collection, they obliquely chart the passing of seasons as well as the publication history of Proust's In Search of Lost Time.

— Saba Ahmed - Asymptote

Proust whining rhapsodically about the sounds of frolicking children on the other side of his bedroom wall, as translated by Lydia Davis — what's not to love here?
— Evan Lavender-Smith - HTMLGiant
New Directions, 9780811224116, 112pp.
Publication Date: August 22, 2017
About the Author
Marcel Proust is arguably the most admired writer of the twentieth century.

Lydia Davis is the author of one novel and seven story collections. Her collection Varieties of Disturbance: Stories was a finalist for the 2007 National Book Award. She is the recipient of a MacArthur fellowship, the American Academy of Arts and Letters' Award of Merit Medal, and was named a Chevalier of the Order of the Arts and Letters by the French government for her fiction and her translations of modern writers, including Maurice Blanchot, Michel Leiris, and Marcel Proust. Lydia Davis is the winner of the 2013 Man Booker International Prize.
or
Not Currently Available for Direct Purchase