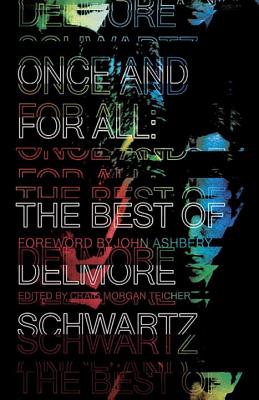 Once and for All (Paperback)
The Best of Delmore Schwartz
New Directions, 9780811224321, 280pp.
Publication Date: May 3, 2016
* Individual store prices may vary.
Description
The publication of this book restores a missing chapter in the history of twentieth-century American literature
With his New Directions debut in 1938, the twenty-five-year-old Delmore Schwartz was hailed as a genius and among the most promising writers of his generation. Yet he died in relative obscurity in 1966, wracked by mental illness and substance abuse. Sadly, his literary legacy has been overshadowed by the story of his tragic life.
Among poets, Schwartz was a prototype for the confessional movement made famous by his slightly younger friends Robert Lowell and John Berryman. While his stories and novellas about Jewish American experience laid the groundwork for novels by Saul Bellow (whose Humboldt's Gift is based on Schwartz's life) and Philip Roth.
Much of Schwartz's writing has been out of print for decades. This volume aims to restore Schwartz to his proper place in the canon of American literature and give new readers access to the breadth of his achievement. Included are selections from the in-print stories and poems, as well as excerpts from his long unavailable epic poem Genesis, a never-completed book-length work on T. S. Eliot, and unpublished poems from his archives.
About the Author
Delmore Schwartz (1913-1966) was born and raised in Brooklyn. One of America's greatest poets and short-story writers, Schwartz contributed "In Dreams Begin Responsibilities" to the first issue of Partisan Review in 1937. Schwartz taught at Syracuse, Princeton, and Kenyon College, and received the Bollingen Prize in 1959. After a difficult period of alchoholism and depression, he died of a heart attack in 1966.

Craig Morgan Teicher is a poet and critic. His most recent book of poems is To Keep Love Blurry (BOA, 2012). He lives with his wife and children in New York City.

Pulitzer Prize–winning poet John Ashbery (1927—2017) translated many French writers, including Alfred Jarry, Pierre Reverdy, and Raymond Roussel. In 2011 he was awarded the National Book Foundation's Lifetime Achievement Award.
Praise For Once and for All: The Best of Delmore Schwartz…
This richly illuminating collection should help secure Schwartz the renewed appreciation he deserves.
— Donna Seaman

This new collection of Delmore Schwartz's work reads like a literary "CV of Failures," a powerful testament to a life shaken by the Great Depression. As we navigate the long road to national recovery, we can use his writing both as a mirror and as a compass.
— Jason Boog

Excellent writing.

One of the young princes of American literature in the middle of the 20th century

This is a consistently intriguing volume that devotees and neophytes will want on their shelf.

[V]ivid details of lived experience are thrust throughout Schwartz's
writing. Readers are left reeling among elemental features of the world,
physical and immediate yet drenched as well with historical and
literary ambience.
— Patrick James Dunagan

Once and for All serves as an ideal introduction for the curious reader.

— Adam Kirsch

The brilliant, doomed Delmore Schwartz was one of his generation's strongest creative talents, but his imaginative work has been sadly neglected. Once and for All is the latest and most comprehensive collection of his work to date and the volume takes on a very valuable task: it attempts to give Schwartz's provocative and multifaceted literary legacy its long-deserved due.

— Matt Hanson

Delmore's genius survives in the sound of his words, in his hypnotizing lines.
— Jonathan Galassi

For Schwartz poetry was ongoing and unstoppable, a process as compulsive and endless as the mariner's telling of his tale.
— Mark Ford

What complicates and enriches Schwartz's comedy is, I think, a reaching out toward nobility, a shy aspiring spirituality, a moment or two of achieved purity of feeling.
— Irving Howe

A genius... one of the greatest writers of our era.
— Lou Reed

I wanted to write. One line as good as yours. My mountain. My inspiration.
— Lou Reed