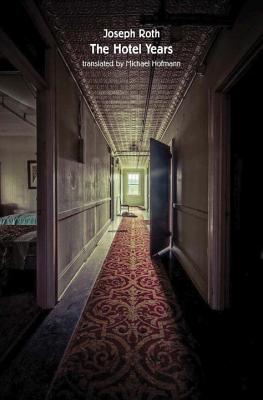 The Hotel Years
Paperback

* Individual store prices may vary.
Description
The first overview of all Joseph Roth's journalism: traveling across a Europe in crisis, he declares,"I am a hotel citizen, a hotel patriot."
The Hotel Years
gathers sixty-four feuilletons: on hotels; pains and pleasures; personalities; and the deteriorating international situation of the 1930s. Never before translated into English, these pieces begin in Vienna just at the end of the First World War, and end in Paris near the outbreak of the Second World War. Roth, the great journalist of his day, needed journalism to survive: in his six-volume collected works in German, there are three of fiction and three of journalism. Beginning in 1921, Roth wrote mostly for the liberal
Frankfurter Zeitung
who sent him on assignments throughout Germany - the inflation, the occupation, political assassinations - and abroad, to the USSR, Italy, Poland and Albania. And always: "I celebrate my return to lobby and chandelier, porter and chambermaid."
Praise For The Hotel Years…
This wonderful selection of journalism from the Weimar years, a period Roth spent in Paris, Germany and on the road, displays genius from every angle, as a rebel, a loyalist and a man of compassion.
— Jan Morris - Daily Telegraph

Roth's journalism creates a vivid sense of a continent on the brink of change.
— Independent on Sunday

Nonstop brilliance, irresistible charm and continuing relevance.
— Jeffrey Eugenides - New York Times Book Review

Joseph Roth has emerged as one of the greatest, certainly the most prescient, of the German writers of the entre-deux guerres'.
— TLS

Joseph Roth: his view arises from the deepest human pity everywhere. I cannot imagine how he does this except instinctively. He is incomparable.
— Anne Carson

I love going back to Joseph Roth. He's one of the best journalists who ever lived and certainly an amazing writer and novelist. His book called The Hotel Years are articles he wrote about staying in hotels, mostly in eastern Europe as it then was in the last days of the Austrian Habsburg Empire. I love his style of observation and his descriptions of characters and so on. I always feel enriched when I put down a book by Joseph Roth.
— John le Carré

Roth captures and encapsulates Europe in those uncertain hours before the upheaval of a continent and the annihilation of a civilization.
— Cynthia Ozick

A singular achievement of both journalism and literature.
— Thane Rosenbaum - The Washington Post Book World

His was a voice of uncowed conscience and irrepressible humanism, his body of work a damning j'accuse against the folly of the age. The dispatches in The Hotel Years constitute a compelling vindication of his claims for the feuilleton's literary possibilities.

— Houman Barekat - Los Angeles Review of Books

So consistently incisive that we devour the lot, compulsively, from cover to cover.
— Amanda Hopkinson - The Independent

Roth was as equally magisterial and entertaining in his journalism as he was in his novels, and Michael Hofmann's new selection of Roth's nonfiction, his fourteenth translation of Roth's overall, is thoroughly addictive.
— André Naffis-Sahely - Paris Review

Dazzling, elegiac, mordant and harrowingly oracular by turn.
— George Prochnik - New York Times Book Review

The Hotel Years is a master class in journalism, and a reminder that when a writer can play multiple small notes, he creates a full composition that carries the depth of meaning.

— Juan Vidal - NPR Books

Roth's hotel years came to an abrupt end in the Old World. Thankfully, his account of them, and of the turbulent cross-currents of his age, live on in exquisite collections such as this one.
— Malcolm Forbes - The American Interest

Brilliantly perceptive, beautifully crafted and often dripping with mordant wit.
— Toby Lichtig - The Wall Street Journal
New Directions, 9780811224871, 192pp.
Publication Date: September 29, 2015
About the Author
Joseph Roth (1894-1939) was the great elegist of the cosmopolitan culture that flourished in the dying days of the Austro-Hungarian Empire. He published several books and articles before his untimely death at the age of 44. Roth's writing has been admired by J. M. Coetzee, Jeffrey Eugenides, Elie Wiesel, and Nadine Gordimer, among many others.

The poet Michael Hofmann has won numerous prizes for his German translations.
or
Not Currently Available for Direct Purchase