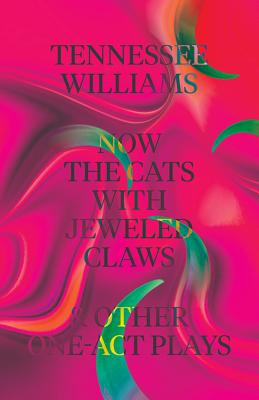 Now the Cats With Jeweled Claws & Other One-Act Plays (Paperback)
New Directions, 9780811225564, 208pp.
Publication Date: July 12, 2016
* Individual store prices may vary.
Description
"The peak of my virtuosity was in the one-act plays—like firecrackers in a rope." —Tennessee Williams
This new collection of fantastic, lesser-known one-acts contains some of Williams's most potent, comical and disturbing short plays?Upper East Side ladies dine out during the apocalypse in 
Now the Cats With Jeweled Claws
, while the poet Hart Crane is confronted by his mother at the bottom of the ocean in 
Steps Must Be Gentle
. Five previously unpublished plays include 
A Recluse and His Guest
, and 
The Strange Play
, in which we witness a woman's entire life lived within a twenty-four-hour span. This volume is edited, with an introduction and notes, by the editor, acting teacher, and theater scholar Thomas Keith.
About the Author
Tennessee Williams (1911-1983) is the acclaimed author of many books of letters, short stories, poems, essays, and a large collection of plays, including The Glass Menagerie, A Streetcar Named Desire, Camino Real, Cat on a Hot Tin Roof, Orpheus Descending, The Night of the Iguana, and The Rose Tattoo.

Born in Cleveland, Ohio, in 1961, Thomas Keith is an editor, as well as production manager and art director, at New Directions Publishing. He lives in New York City.
Praise For Now the Cats With Jeweled Claws & Other One-Act Plays…
Mr. Williams is a master of the short play.
— Clive Barnes

Williams was always confronting the future; a shaman with a typewriter, he dug into the darkest depths of the American psyche in search of dramatic truths.
— Randy Gener

Now the Cats With Jeweled Claws is a loopy send-up of New York society, written in a gleefully absurdist mode.

— Bruce Weber

A Recluse and His Guest has remarkable language; indeed one listens for how the Master keeps showing up in late-career scripts.

— Hilton Als

From Williams, it seems, there are treasures to be plundered still.
— Laura Collins-Hughes

Steps Must Be Gentle provides a tantalizing peek into Williams's preoccupation with death, suicide, and creativity.

— Tom Valeo

The fact that This Is the Peaceable Kingdom takes place in New York puts a whole different spin on the play and gives the poetry a different kind of starkness.

— Mallery Avidon

The Strange Play and Ivan's Widow make for intriguing theater, both in their own right and as a part of the legacy of Tennessee Williams—a playwright who prowled the world's dark corners long before, and long after, he shone under the bright lights of Broadway.

— Brad Rhine

I do not want to reveal too many of The Strange Play's secrets—its embrace of a whimsical, ethereal, and, yes, strange, world is most pleasing when it is a surprise to the audience.

— Bess Rowen

You won't forget Now The Cats with Jeweled Claws—I've seen quite a few late-period Williams curios but this mesmerizing 1981 piece may be the most demented of them all.

— Elisabeth Vincentelli

In A Recluse and His Guest, Williams skillfully breaks our hearts.

— David Clark

The Strange Play is delightful and bizarre.

— Tyler Gillespie

Williams was always confronting the future; a shaman with a typewriter, he dug into the darkest depths of the American psyche in search of dramatic truths.
— Randy Gener

The Demolition Downtown wrings laughter from the plight of a couple whose lives have been ruined by a new political order bent upon demolishing, literally and otherwise, the lives of its citizens.

— Eric Marchese, Backstage, Los Angeles

In A Recluse and His Guest, America's most poetic playwright brings to life an entire relationship of depth and intimacy, from the first meeting to the last, in an astonishingly short amount of time.

— Todd Stuart Phillips