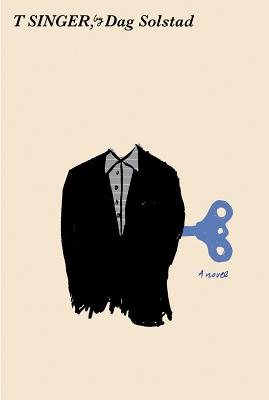 T Singer
Paperback

* Individual store prices may vary.
Description
"Solstad doesn't write to please other people. Do exactly what you want, that's my idea...the drama exists in his voice" (Lydia Davis) 
T Singer begins with thirty-four-year-old Singer graduating from library school and traveling by train from Oslo to the small town of Notodden, located in the mountainous Telemark region of Norway. There he plans to begin a deliberately anonymous life as a librarian. But Singer unexpectedly falls in love with the ceramicist Merete Saethre, who has a young daughter from a previous relationship. After a few years together, the couple is on the verge of separating, when a car accident prompts a dramatic change in Singer's life.
The narrator of the novel specifically states that this is not a happy story, yet, as in all of Dag Solstad's works, the prose is marked by an unforgettable combination of humor and darkness. Overall, T Singer marks a departure more explicitly existential than any of Solstad's previous works. 
Praise For T Singer…
With the simultaneous publication of the novel Armand V, Solstad should finally get the attention he deserves in the U.S...The novel follows Singer from his early twenties to his late forties, and this life, which hardly seems to belong to the man living it, proceeds like a jaunty, unforgettable tune played in a minor key.


A story at once traditional and postmodern.

T Singer goes far beyond the typical, Camus-like portrait of existential alienation that clings to every corner of global literature like the odor of cigarette smoke in a supposedly clean hotel room. Solstad creates a truly singular character whose existence feels like nothing more than the sum of indentations left on him by the world.

— Is This the Year Dag Solstad Becomes A Household Name

Solstad's unusual, entertaining novel of restrained humor follows its protagonist, T Singer, over a lifetime of nonengagement....The novel brilliantly shows the humor and pain of obsessiveness, and the anxious, analytic Singer emerges as an enduring creation.

The Solstadian long sentence feeds back into itself, meandering with the aimless inevitability of a river heading towards the sea.

Solstad has a revered role in Norway as the chronicler of his country's changing times.

Full of dryly comic, densely existential despair.

Dag Solstad serves up another helping of his wan and wise almost-comedy.
— Geoff Dyer

Solstad, regarded by Norwegians as arguably their finest and surely their most critically praised and influential contemporary novelist, pairs his deep political engagement with an ever-renewed formal invention. With each new novel, he startles us, his readers, yet again with something unexpected.  I find him, with his spirited intelligence, a delight and an inspiration to read, whether (haltingly!) in Norwegian or, over the past few years, happily, gratefully, in English translation.
— Lydia Davis

All of the whispers have been right: Solstad is a vital novelist.
— Charles Finch

Solstad's inventive approach allows him to reflect on the freedom and obligations of the novelist who is tasked with telling someone else's life story. It also inscribes, in the novel's very form, Solstad's way of writing about people who are not quite the protagonists of their own lives...What if a life—even an apparently consequential one, like an ambassador's—had no discernible narrative, no coherent main action? Actual lives look nothing much like conventional novels. That is the challenge Solstad accepts and rigorously joins.
— James Wood
New Directions, 9780811225960, 232pp.
Publication Date: May 29, 2018
About the Author
Dag Solstad (b. 1941) has written nearly thirty books, including Armand V and T Singer (both available from New Directions). Admired worldwide by writers as diverse as Lydia Davis, Geoff Dyer, and Peter Handke, Solstad has won the 2006 Brage Prize, the 1989 Nordic Council's Prize for Literature, and the Norwegian Critic's Prize in 1969, 1992, and 1999.

Tiina Nunnally is the award-winning translator of more than 70 books from the Scandinavian languages, including Kristin Lavransdatter by Sigrid Undset, Niels Lyhne by Jens Peter Jacobsen, and The Land of Dreams by Vidar Sundstol. She was appointed Knight of the Royal Norwegian Order of Merit for her contributions to Norwegian literature in the United States.