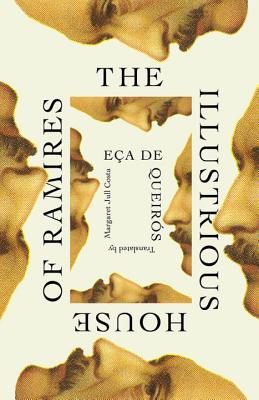 The Illustrious House of Ramires (Paperback)
New Directions, 9780811226028, 352pp.
Publication Date: May 23, 2017
Other Editions of This Title:
Paperback (5/17/1994)
* Individual store prices may vary.
Description
In a brilliant new translation, the wonderful penultimate novel by Eça de Queirós: "Portugal's greatest novelist" (José Saramago)
The Illustrious House of Ramires
, presented here in a sparkling new translation by Margaret Jull Costa, is the favorite novel of many Eça de Queirós aficionados. This late masterpiece, wickedly funny and yet profoundly tender, centers on Gonçalo Ramires, heir to a family so aristocratic that it predates even the kings of Portugal. Gonçalo—charming but disastrously effete, idealistic but hopelessly weak—muddles through his pampered life, burdened by a grand ambition. He is determined to write a great historical novel based on the heroic deeds of his fierce medieval ancestors.  But "the record of their valor," as
The London Spectator
remarked, "is ironically counterpointed by his own chicanery. A combination of Don Quixote and Walter Mitty, Ramires is continually humiliated but at the same time kindhearted. Ironic comedy is the keynote of the novel. Eça de Queirós has justly been compared with Flaubert and Stendhal."
About the Author
One of the leading intellectuals of the "Generation of 1870," José Maria de Eça de Queirós (1845-1900) wrote twenty books, founded literary reviews, and for most of his life also worked as a diplomat, in Havana, London, and Paris.

Margaret Jull Costa, the three-time winner of the Oxford-Weidenfeld Translation Prize, has also won the International IMPAC Dublin Prize and the PEN/Book-of-the-Month Club Translation Prize, among many others.
Praise For The Illustrious House of Ramires…
Eça
de Queirós ought to be up there with Balzac, Dickens, and Tolstoy as one of the
talismanic names of the nineteenth century.

"What does Eça's Portugal feel like? It is dominated by hot sunny days,
white trousers, dust, theater tickets and evening strolls in Sintra,
roses in buttonholes and glimpses of gowned women getting in and out of
coaches, gorgeous landscapes and trees and flowers, hale farmers and
country maids, long conversations, cats and singing birds and orchards,
pumpkins drying on a station roof, baked sweet rice, and cheese
pastries."
— James Guida

The plot is full of surprises... It's rare to find such a thrilling portrait of the writer at work. (...) José Maria de Eça de Queirós, where have you been all my life?
— Lorin Stein

A writer of
mesmerizing literary power. We should be grateful for such blessings.
— Michael Dirda

A writer of genius.
— Harold Bloom

Eça de Queirós was a god, and this is a translation by another deity (Margaret Jull Costa), so make sure to take a look.
— Scott Esposito

His
excellent prose glides through real experience and private dream in a manner
that is leading on toward the achievements of Proust.
— V. S. Pritchett