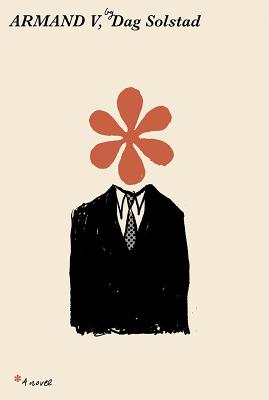 Armand V
Paperback

* Individual store prices may vary.
Description
New Directions proudly introduces two novels in English by the Norwegian master, who is "without question, Norway's bravest, most intelligent novelist" (Per Petterson) 
Armand is a diplomat rising through the ranks of the Norwegian foreign office, but he's caught between his public duty to support foreign wars in the Middle East and his private disdain for Western intervention. He hides behind knowing, ironic statements, which no one grasps and which change nothing. Armand's son joins the Norwegian SAS to fight in the Middle East, despite being specifically warned against such a move by his father, and this leads to catastrophic, heartbreaking consequences.
Told exclusively in footnotes to an unwritten book, this is Solstad's radically unconventional novel about how we experience the passing of time: how it fragments, drifts, quickens, and how single moments can define a life. 
Praise For Armand V…
The thing about Armand V is that no matter how seemingly irrelevant these tangents are and how miscellaneous is the book's structure, nothing in it feels unimportant. This, for me, is why Armand V succeeds so magnificently.

— Veronica Scott Esposito - Literary Hub

Solstad, regarded by Norwegians as arguably their finest and surely their most critically praised and influential contemporary novelist, pairs his deep political engagement with an ever-renewed formal invention. With each new novel, he startles us, his readers, yet again with something unexpected.  I find him, with his spirited intelligence, a delight and an inspiration to read, whether (haltingly!) in Norwegian or, over the past few years, happily, gratefully, in English translation.
— Lydia Davis

All of the whispers have been right: Solstad is a vital novelist.
— Charles Finch - New York Times Book Review

Solstad's inventive approach allows him to reflect on the freedom and obligations of the novelist who is tasked with telling someone else's life story. It also inscribes, in the novel's very form, Solstad's way of writing about people who are not quite the protagonists of their own lives...What if a life—even an apparently consequential one, like an ambassador's—had no discernible narrative, no coherent main action? Actual lives look nothing much like conventional novels. That is the challenge Solstad accepts and rigorously joins.
— James Wood - The New Yorker

Death occupies the space between each of the footnotes that make up the corpus of Armand V, but what Solstad ultimately celebrates in it is the freedom of the novelist, and of the novel form, even as the soon-to-be-curtailed lives of his aging protagonists deny freedom's very existence. It is a grand negation.

— The Times Literary Supplement

Since he published his first book of stories in 1965, Dag Solstad has been
to Scandinavian literature what Philip Roth has been to American letters or
Gu¨nter Grass to German writing: an unavoidable voice.
— The Paris Review

He's a kind of surrealistic writer—serious literature.
— Haruki Murakami

His language sparkles with its new old-fashioned elegance, and radiates a
unique luster, inimitable and full of e´lan.
— Karl Ove Knausgaard

Of diplomacy and its discontents: an existentialist-tinged character study by acclaimed Norwegian novelist Solstad.
— Kirkus

This unique, fascinating novel is composed of footnotes to a larger work that doesn't exist...Solstad is, as ever, excellent at mingling the personal with the theoretical, embedded in the strange beauty of everyday routine.
— Publishers Weekly (starred)

The Solstadian long sentence feeds back into itself, meandering with the aimless inevitability of a river heading towards the sea.
— The Guardian

The novel unfolds against every expectation into something memorable and moving.
— Michael Autrey - Booklist Online

Already renowned in Scandinavian literature, Solstad once again brilliantly defies categories, this time in English.
— Lanie Tankard - World Literature Today
New Directions, 9780811226288, 224pp.
Publication Date: May 29, 2018
About the Author
Dag Solstad (b. 1941) has written nearly thirty books, including Armand V and T Singer (both available from New Directions). Admired worldwide by writers as diverse as Lydia Davis, Geoff Dyer, and Peter Handke, Solstad has won the 2006 Brage Prize, the 1989 Nordic Council's Prize for Literature, and the Norwegian Critic's Prize in 1969, 1992, and 1999.

Steven T. Murray (1943-2018) was the former publisher and editor-in-chief of Fjord Press, which specialized in literary translations from northern Europe. He translated numerous books from German, Norwegian, Swedish, and Danish, including novels by Nele Neuhaus, Henning Mankell, Karin Alvtegen, and Jorgen Brekke. Murray is best known for his translations of the Millennium trilogy by Stieg Larsson.
or
Not Currently Available for Direct Purchase