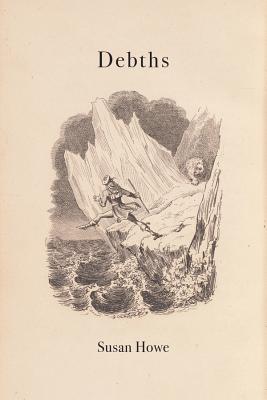 Debths (Paperback)
New Directions, 9780811226851, 244pp.
Publication Date: June 27, 2017
* Individual store prices may vary.
Description
Winner of the Griffin International Poetry Prize
A collection in five parts, Susan Howe's electrifying new book opens with a preface by the poet that lays out some of Debths' inspirations: the art of Paul Thek, the Isabella Stewart Gardner collection, and early American writings; and in it she also addresses memory's threads and galaxies, "the rule of remoteness," and "the luminous story surrounding all things noumenal."
Following the preface are four sections of poetry: "Titian Air Vent," "Tom Tit Tot" (her newest collage poems), "Periscope," and "Debths."  As always with Howe, Debths brings "a not-being-in-the-no."
About the Author
Susan Howe has won the Bollingen Prize, the Frost Medal, and the Griffin Award. She is the author of such seminal works as Debths, That This, The Midnight, My Emily Dickinson, The Quarry, and The Birthmark.
Praise For Debths…
A fresh occasion not just to celebrate Howe, who turned seventy-eight this year, but also to read her anew, which is the more formidable and ultimately more rewarding charge. Wildly and wantonly she is bringing everything to the table, including poetry, history, research, politics, autobiography, imagination, obsession and love, all the while demonstrating how strange, puzzling, and untamed writing and thinking can be.

— Maggie Nelson

Definition of poetry as the intersection of sight, sound, and sense.
— Christopher Higgs

Coming after the publication of over thirty books and chapbooks, it is difficult not to read Debths, Susan Howe's first full-length collection of poetry since Spontaneous Particulars in 2014, as the culminating gesture of her remarkable career. Indeed, Howe, who turns eighty this year, has suggested it is likely her last book. If this is so, I can think of no better way to crown her many decades wandering through the American literary wilderness: Debths reads like the crescendo at the conclusion of a symphony. It is a profound synthesis of Howe's obsessions, methods, and concerns as a writer—a recursive loop back through her oeuvre, but also a renewal of its main lines, drawing the various threads together into a tighter weave. Howe's writing is as vital now as it has ever been.

— Stephen Collis

Debths is a fascinating look at art across time. Howe adroitly
brings into conversation both identified and unknown source material to
create a finely woven exploration of narrative and transmission anchored
in the American past and future....composed of elements from her own
childhood, the art of Paul Thek, draft annotations of late Yeats, fairy
tales, dictionary entries, and the Isabella Stewart Gardner Museum...the
resulting counterpoint is quite complex, but it is ultimately one of
strange consonance that rings true in the same way as a story too
strange to have been invented.
— Sarah Huener

Monomania has its
rewards—an incantatory power that shines through. Howe's images, being
historical as well as biographical, have the eerie shading of ghosts
half-believed in, giving a surreal, dreamlike atmosphere reminiscent of Borges
at his sharpest.

Howe's telepathic poetry is also the most attentive to materiality:
handwriting, spacing, the slightest fold or crevice which might contain
fragments, marginalia, a scribble of poesy. And that's just it—Howe's
attention is the essential rigor of all poetry.

For nearly thirty years,
Howe has occupied a particular and invaluable place in American poetry.  She's a rigorously skeptical and a profoundly
visionary poet, a writer whose demystifying intelligence is matched by a
passionate embrace of poetry's rejuvenating power.
— John Palattella

Howe should be read in the company of Pound, Stevens, Stein, Ashbery and other American poets who reconfigured the ground rules of their art. With her long career in view today, her comment on Dickinson, in 1985, applies to Howe herself: 'A great poet, carrying the antique imagination of her fathers, requires of each reader to leap from a place of certain signification, to a new situation, undiscovered, and sovereign. She carries intelligence of the past into future of our thought by reverence and revolt.
— Langdon Hammer

Howe is among the worthiest heirs to the high-modernist line in American poetry, interested in the accidents, smudges, and tears that fasten works of literature to their material embodiments on the page. Howe's own 'American aesthetic of uncertainty,' shuttles among forms, genres, and states of matter. What connects it all are Howe's powers of insight, and the implied relations between her sparkling trouvailles.

— Dan Chiasson

Susan Howe is our great poetic chronicler of what it means to dwell in possibility, to live on the Edge.

— Marjorie Perloff

The intertextual erudition underpinning all of Howe's work is enabled—and ultimately exceeded—by an unquenchable and wide-eyed curiosity, an infinitely open-ended empathy, and the fervent belief in the notion that 'only art works are capable of transmitting chthonic echo-signals.'
— Kevin Carollo