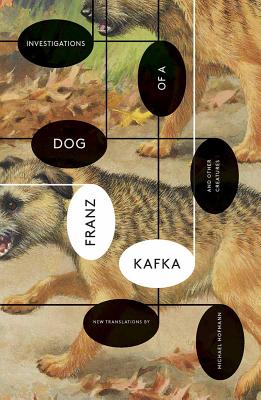 Investigations of a Dog
And Other Creatures
Paperback

* Individual store prices may vary.
Description
A masterful new translation by Michael Hofmann of some of Kafka's most fantastical and visionary short fiction
Animals, strange beasts, bureaucrats, businessmen, and nightmares populate this collection of stories by Franz Kafka. These matchless short works, all unpublished during Kafka's lifetime, range from the gleeful dialogue between a cat and a mouse in "Little Fable" to the absurd humor of "Investigations of a Dog," from the elaborate waking nightmare of "Building the Great Wall of China" to the creeping unease of "The Burrow," where a nameless creature's labyrinthine hiding place turns into a trap of fear and paranoia.
Praise For Investigations of a Dog: And Other Creatures…
This New Directions release of Investigations of a Dog provides an opportunity to reconsider many of Kafka's greatest stories in a new book, with beautiful cover design, and to reexamine how a brilliant mind performed under spiritually backbreaking circumstances.

Hofmann's
translation is invaluable—it achieves what translations are supposedly unable
to do: it is at once 'loyal' and 'beautiful.'

Compare this to any previous translation, and you'll see, for a start,
that there is no dilly-dallying with style; the prose is swift, direct
and without obfuscation, as, one presumes, Kafka intended. He has cut
through literary pretension to seek out the heart of Kafka's work—the
very 'particles' of his writing, as they have been called. His
translation shows Kafka as a modern writer whose work was beyond that of
anything written at that time. Mr. Hofmann, in his many excellent
translations from the German, always makes brave choices.
— Lee Rourke

Anything
by Kafka is worth reading again, especially in the hands of such a gifted
translator as Hofmann.

Hofmann and Kafka...provide one with rich intellectual companionship.
— Franz Kafka

Kafka
spoke for millions in their new unease; a century after his birth, he seems the
last holy writer and the supreme fabulist of modern man's cosmic predicament.
— John Updike

Of
course I owe much to Kafka. I admire him, as I suppose all reasonable people
do.
— Jorge Luis Borges
New Directions, 9780811226899, 244pp.
Publication Date: May 23, 2017
About the Author
Franz Kafka (1883–1924) was one of the most important writers of the twentieth century. His major novels include The Trial, The Castle, and Amerika.

The poet Michael Hofmann has won numerous prizes for his German translations.