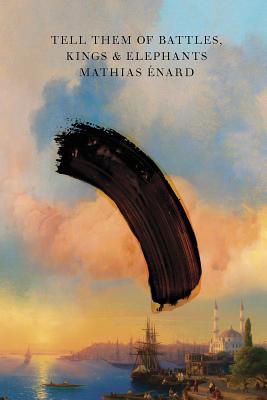 Tell Them of Battles, Kings, and Elephants
Hardcover

* Individual store prices may vary.
Other Editions of This Title:
Paperback (10/29/2019)
Description
Financial Times Book of the Year
An adventure of Michelangelo in Constantinople from the "mesmerizing" (New Yorker) and "masterful" (Washington Post) author of Compass
In 1506, Michelangelo—a young but already renowned sculptor—is invited by the Sultan of Constantinople to design a bridge over the Golden Horn. The sultan has offered, alongside an enormous payment, the promise of immortality, since Leonardo da Vinci's design had been rejected: "You will surpass him in glory if you accept, for you will succeed where he has failed, and you will give the world a monument without equal."
Michelangelo, after some hesitation, flees Rome and an irritated Pope Julius II—whose commission he leaves unfinished—and arrives in Constantinople for this truly epic project. Once there, he explores the beauty and wonder of the Ottoman Empire, sketching and describing his impressions along the way, and becomes immersed in cloak-and-dagger palace intrigues as he struggles to create what could be his greatest architectural masterwork.
Tell Them of Battles, Kings, and Elephants—constructed from real historical fragments—is a story about why stories are told, why bridges are built, and how seemingly unmatched pieces, seen from the opposite sides of civilization, can mirror one another.
Praise For Tell Them of Battles, Kings, and Elephants…
If all you have is a bridge, then everything begins to look like a chasm; the incessant drive to overcome all differences has, unsurprisingly, created more division. Énard's radical suggestion has been, instead, to think about who is being connected to whom, and what is being bypassed along the way.
— Missed Connections: A Novel Imagines Michelangelo in Istanbul

Énard packs a feast for the senses into this short book.
— Boyd Tonkin

The story of Il Maestro's invitation from the sultan to design a bridge over the Golden Horn is beautifully wrought in its simplicity—credit must go to Charlotte Mandell's translation—with a perfectly paced narrative that reaches a dramatic denouement...Enard's taut prose carries the reader swiftly and satisfyingly through chapters (which are more like fragments, really) to the extent that one does not wish for the tale to end. 

Too interesting to pass up.

Any year Mathias Enard brings us new work is always worth celebrating. He invites us to engage with subjects as intricate as beauty, history and art, and always finds some way to make it still feel vital, leaving you with a resounding sense of hope and generosity. While Tell Them of Battles, Kings and Elephants may at times feel like reading the most beautiful poem as the world slowly degrades around you, it might also convince you that art is invincible. An important idea to hold on to, I think, as we wait for our political pantomimes to play out. Charlotte Mandell translates and the book is a miracle.

— Guy Gunaratne

Énard weaves an imaginative and suspenseful tale of civilizations and personalities clashing, of love, of being an artist in a violent era.
— Juan Vidal

A historical novel of exquisite beauty.

Continues Énard's deep, humanistic explorations of the historical and ongoing connections between Europe and Asia, Islamdom and Christendom.

Even as the tragedies of history are spoken, the listeners are asleep. And yet, Énard remains optimistic, his novels a powerful reminder that the possibility for connection remains.
— Isaac Zisman

There is a lush materiality to Énard's prose, thick and smooth, so that following the artist's expeditions through Ottoman opium dens feels nearly as immersive as being in them.

Tell Them of Battles, Kings, and Elephants (deftly translated, like Énard's three previous English releases, by Charlotte Mandell) is a tale of bastard genius that might have been, and a cautionary fable about the consequences of parochial timidity.

— Julian Lucas

In this charming little reverie of a book, inspiration springs from our unguarded confrontations with the unfamiliar.
— Sam Sacks

Mathias Énard weaves tantalizing facts and fragments into the tapestry of a slender historical novel.

All of Énard's books share the hope of transposing prose into the empyrean of pure sound, where words can never correspond to stable meanings. He's the composer of a discomposing age.
— Joshua Cohen

Énard fuses recollection and scholarly digression into a swirling, hypnotic, stream-of-consciousness narration.
— Sam Sacks

No one else writes like Mathias Énard.
— Francine Prose

In his fiction, Énard is constructing an intricate, history-rich vision of a persistently misunderstood part of the world—mesmerizing.
— Jacob Silverman
New Directions, 9780811227049, 144pp.
Publication Date: November 27, 2018
About the Author
Mathias Énard is the author of Compass (winner of the Prix Goncourt, the Leipzig Prize, and the Premio von Rezzori, and shortlisted for the 2017 Man Booker International Prize), Zone, and Street of Thieves.

Charlotte Mandell has translated works by a number of important French authors, including Proust, Flaubert, Genet, Maupassant, and Blanchot.