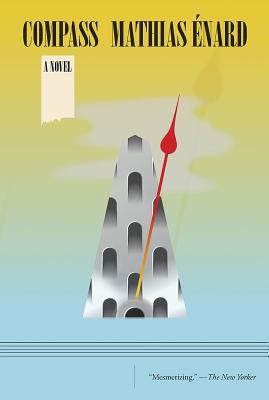 Compass
Paperback

* Individual store prices may vary.
Other Editions of This Title:
Hardcover (3/28/2017)
Paperback (3/22/2017)
Description
Winner of the 2015 Prix Goncourt, an astounding novel that bridges Europe and the Islamic world
Winner of the Prix Goncourt (France), the Leipzig Prize (Germany), Premio Von Rezzori (Italy), shortlisted for the 2017 International Man Booker Prize, shortlisted for the Dublin Literary Award
As night falls over Vienna, Franz Ritter, an insomniac musicologist, takes to his sickbed with an unspecified illness and spends a restless night drifting between dreams and memories, revisiting the important chapters of his life: his ongoing fascination with the Middle East and his numerous travels to Istanbul, Aleppo, Damascus, and Tehran, as well as the various writers, artists, musicians, academics, orientalists, and explorers who populate this vast dreamscape. At the center of these memories is his elusive, unrequited love, Sarah, a fiercely intelligent French scholar caught in the intricate tension between Europe and the Middle East.
With exhilarating prose and sweeping erudition, Mathias Énard pulls astonishing elements from disparate sources—nineteenth-century composers and esoteric orientalists, Balzac and Agatha Christie—and binds them together in a most magical way. 
Praise For Compass…
In this magisterial, exquisitely erudite novel, the insomniac meditations of the bedridden and lovelorn musicologist Franz Ritter take the reader on a vast, crisscrossing perambulation through the rich history of the commingling of Orient and Occident in the 19th and early 20th centuries.
— The New York Times

A fever-dream meditation on East and West and a lost love that binds the two worlds... Lyrical and intellectually rich without ever being ponderous, reminiscent at turns of Mann's Death in Venice and Bowles' Sheltering Sky.

— Kirkus Reviews (starred review)

Compass is as challenging, brilliant, and—God help me—important a novel as is likely to be published this year.

— Justin Taylor - The Los Angeles Times

Énard's prose, which tends to pile descriptive clauses ever higher on
top of one another... can be mesmerizing. But it's the larger project of
his writing that bears particular consideration: in his fiction, Énard
is constructing an intricate, history-rich vision of a persistently
misunderstood part of the world.
— The New Yorker

Énard has written a masterful novel...
— The Washington Post

Mr. Énard fuses recollection and scholarly digression into a swirling,
hypnotic stream-of-consciousness narration. [...] So this sad yet
invigorating novel is both a love letter to a vanishing discipline and
an elegy. Franz's mental circumnavigations constitute a celebration of
the civilizing power of knowledge and 'the beauty of sharing and
diversity.'
— Sam Sacks - The Wall Street Journal

Compass is poetic, ironic, irresistible.

— Jane Ciabattari - BBC

For all its sandstorm of scholarship, translated with tireless eloquence by Charlotte Mandell, Compass aches with that simple yearning. 'Only love' of a person or a culture, thinks Franz under the stars of Syria, 'opens us up to the other.'

— The Economist

[H]is most far-reaching and accomplished book and one of the finest European novels in recent memory.
— Adrian Nathan West - Literary Review

[A] brilliant, elusive, outré love letter to Middle Eastern art and culture.
— Dustin Illingworth - Los Angeles Review of Books

Compass, in its relentlessly discursive impressiveness, embodies an uncompromising vision of the novel as relatively static political and cultural essay.

— The Guardian

A novelist like Énard feels particularly necessary right now, though to
say this may actually be to undersell his work. He is not a polemicist
but an artist, one whose novels will always have something to say to us.
— Christopher Beha - Harper's Magazine

In a time of fear and loathing, Énard's magnum opus points us toward the reality behind so many myths of the Orient.
— New Republic

This astonishing, encyclopedic, and otherwise outré meditation by Énard on the cultural intersection of East and West takes the form of an insomniac's obsessive imaginings—dreams, memories, and desires—which come to embody the content of a life, or perhaps several.... [An] opium addict's dream of a novel.
— Publishers Weekly

[A] masterly new novel that attempts to redeem the specter of the Orient...
— Library Journal

Mathias Énard is the most brazen French writer since Houellebecq.
— New Statesman

Compass is a novel about many things. At its surface it is about the pull of unmet dreams and ambitions. The falsities of love. But at the crux of this examination of a human life is the fabric of cultures intersecting—and in the truth that the pathos of grief exempts no one.

— Yasmin Roshanian - EuropeNow

Mathias Énard has found a way to restore death to life and life to death, and so joins the first rank of novelists, the bringers of fire, who even as they can't go on, do.
— Garth Risk Hallberg - The Millions

It's with no small amount of urgency that Mathias Énard's Compass, an engrossing meditation on the cultural and historical tension between Europe and the Islamic world, arrives from New Directions in a gorgeous translation by Charlotte Mandell.

— Hal Hlavinka - Quarterly Conversation

Comparisons of Compass with The Thousand and One Nights and with Proust (and Ritter thinks about both) are not only inevitable, but necessary.

— Frank Richardson - Numero Cinq
New Directions, 9780811227476, 448pp.
Publication Date: March 27, 2018
About the Author
Mathias Énard is the author of Compass (winner of the Prix Goncourt, the Leipzig Prize, and the Premio von Rezzori, and shortlisted for the 2017 Man Booker International Prize), Zone, and Street of Thieves.

Charlotte Mandell has translated works by a number of important French authors, including Proust, Flaubert, Genet, Maupassant, and Blanchot.