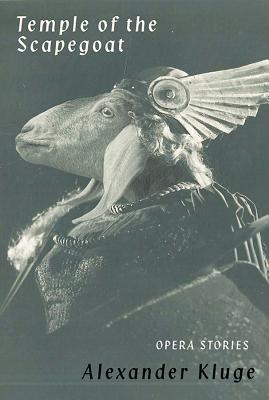 Temple of the Scapegoat (Paperback)
Opera Stories
New Directions, 9780811227483, 288pp.
Publication Date: January 23, 2018
* Individual store prices may vary.
Description
Revolving around the opera, these tales are an "archaeological excavation of the slag-heaps of our collective existence" (W. G. Sebald)
Combining fact and fiction, each of the one hundred and two tales of Alexander Kluge's
Temple of the Scapegoat
(dotted with photos of famous operas and their stars) compresses a lifetime of feeling and thought: Kluge is deeply engaged with the opera and an inventive wellspring of narrative notions. The titles of his stories suggest his many turns of mind: "Total Commitment," "Freedom," "Reality Outrivals Theater," "The Correct Slowing-Down at the Transitional Point Between Terror and an Inkling of Freedom," "A Crucial Character (Among Persons None of Whom Are Who They Think They Are)," and "Deadly Vocal Power vs. Generosity in Opera." An opera, Kluge says, is a blast furnace of the soul, telling of the great singer Leonard Warren who died onstage, having literally sung his heart out. Kluge introduces a Tibetan scholar who realizes that opera "is about comprehension and passion. The two never go together. Passion overwhelms comprehension. Comprehension kills passion. This appears to be the essence of all operas, says Huang Tse-we." He also comes to understand that female roles face the harshest fates: "Compared to the mass of soprano victims (out of 86,000 operas, 64,000 end with the death of the soprano), the sacrifice of tenors is small (out of 86,000 operas 1,143 tenors are a write-off)."
About the Author
Alexander Kluge, born in Germany in 1932, is a world-famous author and filmmaker (his twenty-three films include Yesterday Girl, The Female Patriot, The Candidate), a lawyer, and a media magnate. He has won Germany's highest literary award, the Georg Büchner Prize.

Donna Stonecipher is the author of The Reservoir, Souvenir de Constantinople, and The Cosmopolitan. She also translates poetry and prose from French and German. She grew up in Seattle and Tehran and has lived in New York, Paris, Prague, Iowa City, and Berlin.

Isabel Cole grew up in New York City and studied at the University of Chicago; since 1995 she has lived in Berlin as a writer and translator. In 2006 she co-founded www.no-mans-land.org, the online journal of new German literature in translation. In 2013 she received a PEN/Heim Translation Fund Award to translate Franz Fühmann's At the Burning Abyss, and in 2014 her translation of Fühmann's The Jew Car was shortlisted for the Oxford-Weidenfeld Translation Prize.
Praise For Temple of the Scapegoat: Opera Stories…
"Finely drawn and often ingenious analyses of opera as a genre...Unlike anything Kluge has ever written before..."
— Ida Hattemer-Higgins

Elegant provocations to seize an opera addict's imagination.

The real and imagined history of opera, the landscape of emotions, and the "blast furnaces of the soul," guide Kluge's captivating collection. Over 100 short stories compose a vision of opera as a durable and protean art form.

Alexander Kluge, that most enlightened of writers.
— W. G. Sebald

Alexander Kluge is a gigantic figure in the German cultural landscape. He exemplifies—along with Pasolini—what is most vigorous and original in the European idea of the artist as intellectual, the intellectual as artist. Essential, brilliant.
— Susan Sontag