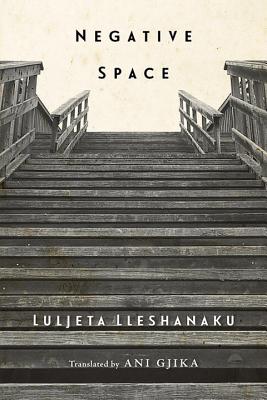 Negative Space
Paperback

* Individual store prices may vary.
Description
Lleshanaku's poems are "full of objects and souls, transformed and given wings in Chagall-like metaphor" (Sasha Dugdale, Poetry Nation Review)
*Shortlist for the Griffin International Poetry Prize*
"Language arrived fragmentary / split in syllables / spasmodic / like code in times of war," writes Luljeta Lleshanaku in the title poem to her powerful new collection Negative Space. In these lines, personal biography disperses into the history of an entire generation that grew up under the oppressive dictatorship of the poet's native Albania. For Lleshanaku, the "unsaid, gestures" make up the negative space that "gives form to the woods / and to the mad woman—the silhouette of goddess Athena / wearing a pair of flip-flops / and an owl on top of a shoulder." It is the negative space "that sketched my onomatopoeic profile / of body and shadow in an accidental encounter." Lleshanaku instills ordinary objects and places—gloves, used books, acupuncture needles, small-town train stations—with subtle humor and profound insight, as a child discovering a world in a grain of sand.
Praise For Negative Space…
Language that's at once immediate and new: a black and white floor is 'like a mouth of broken teeth, a baleen of darkness / sieving out new human destinies.' Urgent and original.
— Nina MacLaughlin - Boston Globe

With a lesser known original language, the more precious the gift of translation! Luljeta Lleshanaku's Negative Space offers a rare glimpse into contemporary Albanian poetry. Effortlessly and with crisp precision, Ani Gjika, herself a poet, has rendered into English, not only the poems in Negative Space, but also the eerie ambience which resonates throughout the book, the deep sense of impermanence that is one of the many consequences of growing up under severe political oppression. 'Negative space is always fertile.' Opening trauma's door, we're met by a tender and intelligent voice with stories illuminating existence in a shared humanity, thus restoring dignity. In a world fractured by terror and violence, Lleshanaku's poetry is infinitely exciting, soothing us, its citizens.

— Griffin Prize Judges Citation

Lleshanaku writes poetry that estranges everyday objects and images of people, imbuing them with a sense of wonder most would ignore or simply not see.
— Sanam Shahmiri - Kenyon Review

Celebrated Albanian writer Lleshanaku presents the domestic, its unseen labor and stabilizing force, as endangered by oppressive political regimes. But she also suggests that resistance begins at home, envisioning a revolution that empowers women most of all. Wry and self-aware.
— Publishers Weekly

Clarity can take many forms. One of them, at least in the poetry of Lleshanaku, results in aphoristic lines, evidence of hard-earned wisdom... Lleshanaku's movement from the ordinary to the profound, that assured intuitive leap, is handled without effort, without pretension, recalling the work of poets such as the Nobel-winning Polish author Wislawa Szymborska.
— Rain Taxi

Lleshanaku has a dizzying talent of capturing our notes of destruction. Wonderfully melancholic.
— Nick Ripatrazone - The Millions

Lleshanaku's work is so full of life and vivid detail that it rings with hope and a revivifying ambition.
— George Szirtes - The Poetry Review

Peculiar magic.
— World Literature Today

Twilit melancholy suffuses her Albania, where 'Soft rain falls like apostrophes in a conversation between two worlds,' family trees are 'struck down by a bolt of lightning,' and most days echo with 'a gray metallic loneliness.' These details coalesce to paint the Albania of her internal exile and, in the end, we feel blessed that Ms. Lleshanaku has invited us to 'the takeoffs and landings / on the runway of her soul.'
— Dana Jennings

Luljeta Lleshanaku is an Albanian poet, born in Elbasan in 1968.

— Michael Hofmann - London Review of Books

Hers are certainly poems about history, politics, and power. But Lleshanaku is also original. When she turns her attention to love, the sense of human fate is unsparing. The tyrant's insistence that there is no private realm has the unintended effect of making it necessary to write powerful and durable poems.
— Sean O'Brien - The Guardian
New Directions, 9780811227520, 112pp.
Publication Date: April 24, 2018
About the Author
The author of seven poetry collections, Luljeta Lleshanaku was born in Elbasan, Albania, in 1968, and grew up under house arrest during Enver Hoxha's Stalinist regime. She has worked as a teacher, literary magazine editor, journalist, screenwriter, and currently is the research director at the Institute of Studies of Communist Genocide in Albania.

Ani Gjika is an Albanian-born writer, a literary translator, and the author of Bread on Running Waters (2013), a finalist for the Anthony Hecht Poetry Prize and May Sarton New Hampshire Book Prize.
or
Not Currently Available for Direct Purchase