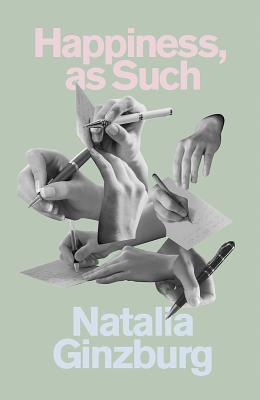 Happiness, as Such
Paperback

* Individual store prices may vary.
Description
The hauntingly beautiful epistolary novel from "a glowing light of modern Italian literature" (New York Times Book Review)



Longlisted for the PEN Translation Award
At the heart of Happiness, as Such is an absence—an abyss that pulls everyone to its brink—created by a family's only son, Michele, who has fled from Italy to England to escape the dangers and threats of his radical political ties. This novel is part epistolary: his mother writes letters to him, nagging him; his sister Angelica writes, missing him; so does Mara, his former lover, telling him about the birth of her son who may be his own. Left to clean up Michele's mess, his family and friends complain, commiserate, tease, and grieve, struggling valiantly with the small and large calamities of their interconnected lives.
Natalia Ginzburg's most beloved book in Italy and one of her finest achievements, Happiness, as Such is an original, wise, raw, comic novel that cuts to the bone.
Praise For Happiness, as Such…
Where it shines is at the line level, where Ginzburg and Proctor together often strike perfect notes.
— Bradley Babendir - Chicago Review of Books

Happiness, As Such is a tragicomedy of manners about an Italian family whose only son flees the country after being persecuted for his political activism. Published in Italy in 1973, it's primarily a series of letters between the estranged son and his friends and family back home. If that sounds uneventful, rest assured it's just as compelling as The Dry Heart.

— Chicago Tribune

The web of connections between private and public life, between the intellectual and the emotional and the political, is delicately visible, only occasionally breaking the surface.
— Lidija Haas - Harper's

A deliciously arid novel.
— Interview Magazine

A swiftly moving blend of dialogue and letters, the novel speaks to Ginzburg's remarkable range as a writer: beneath the currents of humor and wit is a subtle work of insight and feeling. Another masterpiece from one of the finest postwar Italian writers.
— Kirkus (starred)

Ginzburg writes with humor and pathos. Epistolary, family exposes each to the other and we soon recognize that happiness is defined as mundane visitations, daily routines, and reactivated memory of joy as seen through loss.
— Lucy Kogler - Lit Hub

Ginzburg modernizes the form...Between generational differences, genealogical secrets, former and secret lovers, and the desires and limitations related to real and aspirational social milieux, Ginzburg seems to suggest that in the sphere of the family there is always more to tell, and differently.
— Los Angeles Review of Books

The voice is instantly, almost violently recognizable — aloof, amused and melancholy. The metaphors are sparse and ordinary; the language plain, but every word load-bearing. Short sentences detonate into scenes of shocking cruelty. Even in middling translations, it is a style that cannot be subsumed; Natalia Ginzburg can only sound like herself.
— Parul Sehgal - New York Times

Magnificent...This is a riveting story about how even when a family drifts apart, the bonds of blood relations supercede the deepest disagreements.
— Publishers Weekly (starred review)

Ginzburg is a unique voice and there's a direct simplicity to her prose that makes her dry observations all the more riveting 
— Hephzibah Anderson - The Guardian

Candor and lies, love and exasperation, farce and inconsolable grief are seamlessly compounded in this very funny and deeply melancholy book. After devastating loss, which is to be feared more greatly—that nothing will ever be the same, or that many things will be more or less the same? Life goes on, all too recognizably. "You can get used to anything when there's nothing else left," says one of the characters toward the end.
— Deborah Eisenberg - The New York Review of Books

A wonderful act of virtuosity.
— Joan Acocella - The New Yorker

Happiness, as Such, translated by Minna Zallman Proctor, is from 1973, by which point Ginzburg had mastered her method and was complementing the sharp, glittering edifice of her prose with buried seams of humor and pathos. 

— Sam Sacks - The Wall Street Journal

Natalia Ginzburg is a fierce writer. She trusts in things—in the few objects that
can capture the emptiness of the universe.
— Italo Calvino

The voice of the Italian novelist and essayist Natalia Ginzburg comes to us
with absolute clarity amid the veils of time and language. Ginzburg gives us a
new template for the female voice and an idea of what it might sound like. This
voice emerges from her preoccupations and themes, whose specificity and
universality she considers with a gravitas and authority that seem both familiar
and entirely original.
— Rachel Cusk

Her sentences have great precision and clarity, and I learn a lot when I read
her.
— Zadie Smith
New Directions, 9780811227995, 176pp.
Publication Date: June 25, 2019
About the Author
Natalia Ginzburg (1916–1991), "who authored twelve books and two plays; who, because of anti-Semitic laws, sometimes couldn't publish under her own name; who raised five children and lost her husband to Fascist torture; who was elected to the Italian parliament as an independent in her late sixties—this woman does not take her present conditions as a given. She asks us to fight back against them, to be brave and resolute. She instructs us to ask for better, for ourselves and for our children" (Belle Boggs, The New Yorker).

The author of Do You Hear What I Hear? Religious Calling, the Priesthood, and My Father, and the editor of The Literary Review, Minna Proctor won the PEN/Renato Poggioli Award for her translation of Federigo Tozzi's Love in Vain.