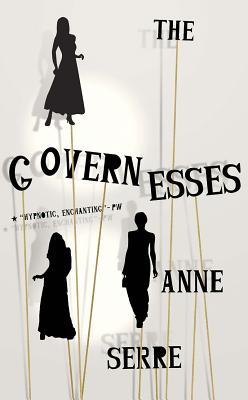 The Governesses
Paperback

* Individual store prices may vary.
Description
Publishers Weekly Best Books in Fiction 2018
The sensational US debut of a major French writer—an intense, delicious meringue of a novella
In a large country house shut off from the world by a gated garden, three young governesses responsible for the education of a group of little boys are preparing a party. The governesses, however, seem to spend more time running around in a state of frenzied desire than attending to the children's education. One of their main activities is lying in wait for any passing stranger, and then throwing themselves on him like drunken Maenads. The rest of the time they drift about in a kind of sated, melancholy calm, spied upon by an old man in the house opposite, who watches their goings-on through a telescope. As they hang paper lanterns and prepare for the ball in their own honor, and in honor of the little boys rolling hoops on the lawn, much is mysterious: one reviewer wrote of the book's "deceptively simple words and phrasing, the transparency of which works like a mirror reflecting back on the reader."
Written with the elegance of old French fables, the dark sensuality of Djuna Barnes and the subtle comedy of Robert Walser, this semi-deranged erotic fairy tale introduces American readers to the marvelous Anne Serre.
Praise For The Governesses…
Told in surrealist bursts, this novella combines the dreaminess of Barbara Comyns, Aimee Bender, and Kathryn Davis with the fairy-tale eroticism of Angela Carter. Each sentence evokes a dream logic both languid and circuitous as the governesses move through a fever of domesticity and sexual abandon. A sensualist, surrealist romp.
— Kirkus

A cruel and exhilarating book. Anne Serre's style is perfectly controlled. Colorful, by turns elegant and violent, it provokes that enchantment borne out of an unbridled imagination.
— Paula Jacques - Marie-Claire

A hypnotic tale of three governesses and the sensuous education they provide. Inès, Laura, and Eléonore are not exactly Jane Eyre types. Prone to Dionysian frenzies, should any passerby fall "into the trap of their vast, lunar privacy," they pounce upon, seduce, and devour him ("in a ladylike manner") to sate their ungovernable desires. This could be the setup for a neo-pagan farce, but as Serre delves into the three women's existence, the novel taps into deeper, quieter waters: the Keatsian twinning of joy and melancholy. Serre's wistful ode to pleasure is as enchanting as its three nymph-like protagonists.
— Publishers Weekly (starred)

"A feminist fantasy, where women satisfy their sexual needs free from society's opprobrium."
— Sophie Lellman - The Arts Fuse

Every so often a different creature darts into view: a novel that is genuinely original — and, often, very quietly so. Call it the anglerfish of literature, after those solitary, crazy-looking lurkers in the sea's deepest trenches. The strangeness of such stories isn't just at the level of construction; it emerges from the writer's very perception of the world and seeps into the syntax. Prim and racy, seriously weird and seriously excellent—The Governesses is not a treatise but an aria, and one delivered with perfect pitch.
— Parul Sehgal - The New York Times

A delightful sabbath.
— Libération

The story, classical in appearance, soon jolts us out of our sleepy ways.
— Florence Sarrola - Le Monde
New Directions, 9780811228077, 112pp.
Publication Date: October 30, 2018
About the Author
The author of fourteen novels and short story books, Anne Serre was born in 1960. Her first novel, Les Gouvernantes, was published in 1992, and praised by Michel Crépu in La Croix for its "remarkable economy of style."

Mark Hutchinson was born in London in 1957 and lives in Paris. Among his many translations are René Char's Hypnos: Notes from the French Resistance and The Inventors and Other Poems.
or
Not Currently Available for Direct Purchase