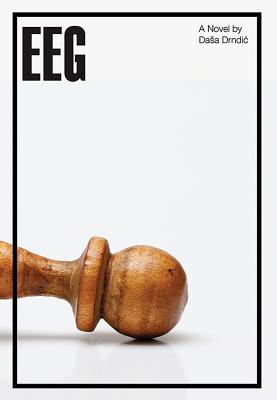 EEG
A Novel
Paperback

* Individual store prices may vary.
Description
Financial Times Book of the Year
An urgent new novel about death, war, and memory from the highly acclaimed Croatian writer
In this breathtaking final work, Daša Drndic reaches new heights. Andreas Ban's suicide attempt has failed. Though very ill, he still finds the will to tap on the glass of history to summon those imprisoned within. Mercilessly, he dissects society and his environment, shunning all favors as he goes after the evils and hidden secrets of our times. History remembers the names of the perpetrators, not the victims—Ban remembers and honors the lost. He travels from Rijeka to Zagreb, from Belgrade to Tirana, from Parisian avenues to Italian castles. Ghosts follow him wherever he goes: chess grandmasters who disappeared during WWII; the lost inhabitants of Latvia; war criminals who found work in the CIA and died peacefully in their beds. Ban's family is with him too, those already dead and those with one foot in the grave. As if left with only a few pieces in a chess game, Andreas Ban—and Daša Drndic—play a stunning last match against Death.
Praise For EEG: A Novel…
One of the most electrifying prose writers of our time. Daša Drndic has blessed us with a narrator unafraid to merge global traumas with personal ones—we have before us a novel that answers the demands of history with equal parts tenacity and generosity.
— *The Hudson Review*

Wry and kindly, funny, angry, informed and intent on the truth, no voice is quite as blisteringly beautiful as that of Drndic. Ban is the witness, the seeker of truth. Drndic, a tenacious collector of personal histories and the names of victims lost in the Holocaust, wrote about many things; for all the darkness, her concerns are life and justice.
— Financial Times

The final novel by the late Croatian author is a poignant testament to her relentlessly probing spirit.
— Financial Times

An elegant search for lost time and a fitting valediction by a superb writer.
— Kirkus (starred review)

This is a novel of ideas but also of exquisite poetry, as when Drndic writes of a figure out of Ban's past: 'He died alone, and he was afraid of solitude.' An elegant search for lost time and a fitting valediction by a superb writer.
— Kirkus (starred review)

The formidable Daša Drndic has created something like a modern-day
Homeric narrative of wars that are anything but glorious. In Celia Hawkesworth,
she has a translator of genius who shares her vision. It is difficult to suggest
a contemporary English-language novel with which to compare it, or one that
might even approach its eloquence and daring.
— Eileen Battersby - Los Angeles Review of Books

Perhaps the most ambitious novel of the twenty-first century so far.
— Merve Emre - New York Review of Books

The 20th century is revealed as a parade of horrors in this harrowing novel from Drndic (1946–2018), one of Croatia's most acclaimed contemporary authors.... Riveting.
— Publishers Weekly

Drndic cultivates a visionary art of memory. She rescues the names, and the lives, of the lost. Her writing glows with an incendiary bleakness worthy of Beckett.
— Boyd Tonkin - The Arts Desk

There is great wisdom, along with dark history, in these pages, for those ready to take on the challenge.
— Claire Messud - The Guardian

Reading Daša Drndic is not
for the fainthearted. Anger radiates from Drndic's pages, and perhaps the
book's greatest strength is the way in which it gives a voice to those people
who are unable to tell their own stories.
— Shaun Walker - The Guardian

We have lost one of the most electrifying prose writers of our time. It will be difficult to forget a sensibility so expansive, so capable of forging ahead while keeping the past constantly at hand.
— William Harrison - The Hudson Review

Drndic has in her own way composed an astonishment that extracts light from darkness.
— The Jewish Daily Forward

After surviving a suicide attempt, Andreas Ban goes on to dissect and expose the hidden evils and secrets of our times.
— The Millions

Drndic's formidable intelligence and Homeric intention cannot help but thrill and exalt.
— Dustin Illingworth - The Paris Review Daily

Drndic interweaves fiction, reality, history, and memory to terrific effect, producing unforgettable meditations on love and loss, the insanity of war and the legacy of human cruelty.
— Lucy Popescu - The White Review

Daša Drndic, who died last year, was interested in many things—chess, suicide, the intelligence of rats—but chief among them was Nazism and the horrors of WWII. Like Bolano's 2666, EEG demands we stare directly into the face of darkness.

— Anderson Tepper - Vanity Fair
New Directions, 9780811228480, 380pp.
Publication Date: April 30, 2019
About the Author
Daša Drndic (1946-2018) wrote Trieste—"splendid, absorbing" (The New York Times)—shortlisted for the Independent Foreign Fiction Prize; and Belladonna—"one of the strangest and strongest books" (TLS)— winner of the 2018 Warwick Prize; and EEG—"a masterpiece" (Joshua Cohen). She also wrote plays, criticism, radio plays, and documentaries.

Celia Hawkesworth has translated The Museum of Unconditional Surrender by Dubravka Ugrešic, Belladonna by Daša Drndic—shortlisted for the Oxford-Weidenfeld Translation Prize—and Omer Pasha Latas by the Nobel Prize–winner Ivo Andric.