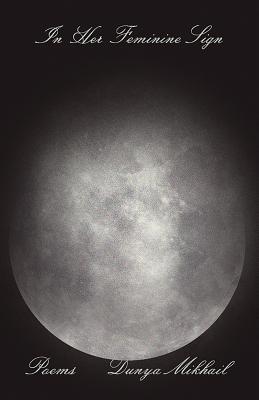 In Her Feminine Sign
Paperback

* Individual store prices may vary.
Description
A brilliant poetic exploration of language and gender, place, and time, seen through the mirror of exile
In Her Feminine Sign follows on the heels of Dunya Mikhail's devastating account of Daesh kidnappings and killings of Yazidi women in Iraq, The Beekeeper. It is the first book she has written in both Arabic and English, a process she talks about in her preface, saying "The poet is at home in both texts, yet she remains a stranger." With a subtle simplicity and disquieting humor reminiscent of Wislawa Szymborska and an unadorned lyricism wholly her own, Mikhail shifts between her childhood in Baghdad and her present life in Detroit, between Ground Zero and a mass grave, between a game of chess and a flamingo. At the heart of the book is the symbol of the tied circle, the Arabic suffix taa-marbuta—a circle with two dots above it that determines a feminine word, or sign. This tied circle transforms into the moon, a stone that binds friendship, birdsong over ruins, three kidnapped women, and a hymn to Nisaba, the goddess of writing. A section of "Iraqi haiku" unfolds like Sumerian symbols carved onto clay tablets, transmuted into the stuff of our ordinary, daily life. In another poem, Mikhail defines the Sumerian word for freedom, Ama-ar-gi, as "what seeps out / from the dead into our dreams." 
Praise For In Her Feminine Sign…
Mikhail's style maintains an impressive fragility and delicacy of image that touches the reader's heart…
— American Poetry Review

Mikhail sings of the longing and undoing of exile, mourns the loss of her language, describes its gendering and the re-engineering on her tongue, a poet's most important muscle. Delicate, beautiful, day-stopping.
— John Freeman, LitHub

Dunya Mikhail, an Iraqi exile and one of the foremost poets of our time, captures
the idiosyncratic grace of the world around her, showing herself an acute
observer of its oddities and beauty.
— Elizabeth Toohey - The Christian Science Monitor

In Her Feminine Sign is a collection of limpid meditations which demand that we pause as we read. Their stillness and clarity is no miniaturised charm. Instead it's an utterly articulate clear-sightedness that lets each one deliver a shock. The tragedies of recent and not so recent Iraqi history and the traditions of Arabic verse are the steely structures that underpin her profoundly thought-through work of witness.

— Fiona Sampson - The Guardian

"Rare and powerful: Mikhail has created a searing portrait of courage, humanity and savagery, told in a mosaic of voices. Her gifts as a poet infuse these narratives with unexpected beauty."
— Deborah Campbell - The New York Times

With plain-spoken clarity, these poems navigate the meaning of home. 'How many departures can you put up with?' one asks.
— The New York Times "New & Noteworthy"

"The dead have words, because Mikhail has written them. Read In Her Feminine Sign to learn from someone who survived and escaped a culture of cruelty, made much worse by American arrogance and idiocy, in Iraq. Read it to face the reality of the United States's own culture of cruelty, of caged children and other savagery. In Her Feminine Sign is as vital in every sense of the word as the strongest literary witnessing I have had the privilege of reading this year."

— Barbara Berman - The Rumpus

Throughout this newest collection, Dunya Mikhail writes poems of cities, friends, grandmothers, goddesses, of girls who might 'outgrow / their dresses / while on the road' to captivity. The poems offer a chronicle of internal life in the landscapes of exile and remembered homeland, always foregrounding the experiences of women. Fossils are reanimated and birds flit between the pages, answering the silences and laments of the various speakers. Beyond the reductive trope of 'witness' often inaccurately assigned to writers whose lives unfold in times of war, Mikhail's poems embody the world that necessitates her work, seamlessly navigating eras and continents. These are not poems about war or exile or trauma. They are poems that emanate from the women who live them, those who survive and those who are remembered.
— Lena Khalaf Tuffaha - World Literature Today

Dunya Mikhail is a woman who speaks like the disillusioned goddesses of Babylon. 
— Etel Adnan

Here is the new Iraqi poetry. 
— Pierre Joris
New Directions, 9780811228763, 80pp.
Publication Date: July 30, 2019
About the Author
Dunya Mikhail was born in Baghdad, Iraq, and moved to the United States thirty years later in 1995. After graduating from the University of Baghdad, she worked as a journalist and translator for the Baghdad Observer. Facing censorship and interrogation, she left Iraq, first to Jordan and then to America, settling in Detroit. New Directions published her books The Beekeeper: Rescuing the Stolen Women of Iraq, The Iraqi Nights, Diary of A Wave Outside the Sea, and The War Works Hard—chosen as one the New York Public Library's Books to Remember in 2005—as well as her edited volume, 15 Iraqi Poets. She has received a Guggenheim Fellowship, a Knights Foundation grant, a Kresge Fellowship, and the United Nations Human Rights Award for Freedom of Writing, and works as a special lecturer of Arabic at Oakland University in Michigan.
or
Not Currently Available for Direct Purchase