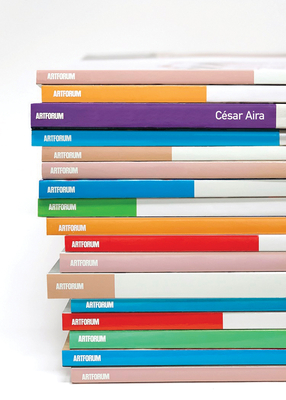 Artforum
Paperback

* Individual store prices may vary.
Description
One man's obsession with Artforum magazine takes us on a hilarious journey to the ultimate meaning of the very creation of art
Artforum
is certainly one of César Aira's most charming, quirky, and funny books to date. Consisting of a series of interrelated stories about his compulsion to collect
Artforum
magazine, this is not about art so much as it is about passionate obsession. At first we follow our hapless collector from magazine shops to used bookstores hunting for copies of
Artforum
. A friend alerts him to a copy somewhere and he obsesses about actually going to get it—will the shop be open, will the copy already be sold? Finally he takes out a subscription, but then it never comes, so he hounds the mailman. There's the day his stash of
Artforums
gets rained on, but only one absorbs the water. And interspersed is a wacky chapter about the mystery of the broken clothespins. "How weird." "How crazy."
Praise For Artforum…
I can think of no
other writer as concerned with formal and thematic questions of pace (not of
time, but of the various speeds at which we feel time pacing): not only are the
individual books quick-moving, but he's published over a hundred of them, with
no signs of slowing down.
— Steven Zultanski - Frieze

César Aira is an experimental Argentinian author whose short fiction is often funny and always mind-boggling. His new novella, Artforum, is an excellent entrypoint into his wild body of work.

— GQ

 A marvelous little collection about compulsion, obsession, and the extraordinary joy that a simple pleasure can bring.  
— Kirkus Review

Aira is unencumbered. He does what he does, and what we receive is giddy, unquestionably self-indulgent, and yet absolutely perfect...For a novella like Artforum, one doesn't need to reach deep into the toolkit of literary theory. Aira creates his own epistemology. It's marvelous to witness.

— Kamil Ahsan - NPR

As Aira illuminates the dead ends in his drive to collect the magazine, he offers rich insight into the appreciation of art and the desire to possess. This entertaining jaunt through the writer's creative development satisfies with brevity and grace. 
— Publishers Weekly

Artforum, the newest work by César Aira to be published in the U.S., is one of the most fascinating experiences in modern literature. A novel that synthesizes surrealism, pseudo-memoir, philosophy, and theater into the compact space of eighty-two pages, it somehow still retains the fluttery and playful tone that makes this book so enjoyable to read.

— Rain Taxi

His novels are more meaningful when taken together, each a shard of the same symbolic object. Artforum is a minor work that creates a minor cosmos, and in so doing feels — like the rest of Aira, and the best of art — major.

— Tyler Malone - The Los Angeles Times

Aira's cubist eye
sees from every angle.
— Patti Smith - The New York Times Book Review
New Directions, 9780811229265, 80pp.
Publication Date: March 31, 2020
About the Author
Nominated for a Neustadt award and the Man Booker International Prize, César Aira was born in Coronel Pringles, Argentina, in 1949. He has published at least one hundred books and recently created a limited edition, "Valise," for the Museum of Modern Art, NYC.

Katherine Silver's award-winning translations include works by María Sonia Cristoff, Daniel Sada, César Aira, Julio Cortázar, Juan Carlos Onetti, and Julio Ramón Ribeyro. The author of Echo Under Story, she does volunteer interpreting for asylum seekers.