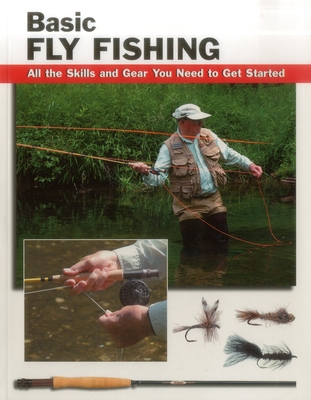 Basic Fly Fishing (Spiral)
All the Skills and Gear You Need to Get Started (Stackpole Basics)
Stackpole Books, 9780811733038, 113pp.
Publication Date: September 1, 2006
* Individual store prices may vary.
Description
- Selecting the rod, reel, line, leader, and flies to fill the trout fly box with step-by-step photos and instructions on the forward cast, sidearm cast, roll cast, and slack-line cast and includes six knots you need to know - Choosing the correct imitation at the best size to match the insects on the water and how to fish with searching patterns - How to find trout, present the fly correctly, set the hook, and play the fish and expand your skills to the double haul cast, used for catching bass and pike Many people are intimidated by the subtleties of fly casting, the myriad of flies, and the fine points of entomology, all of which make up the sport of fly fishing. Getting started does require a set of skills and knowledge about casting, fly selection, knot tying, reading the water, and tactics, and Basic Fly Fishing provides these essential facts and skills so you can get out on the water and catch fish.
About the Author
Lefty Kreh has been an outdoor writer for more than 45 years and was named "Angler of the Year" by Fly Rod and Reel magazine in 1997. He currently can be seen fishing with Tom Brokaw, Yvon Chouinard (founder of Patagonia), and Michael Keaton on the Outdoor Channel's Buccaneers & Bones. He lives in Hunt Valley, Maryland. Barry and Cathy Beck are renowned outdoor photographers based in Benton, Pennsylvania. Jay Nichols is the former managing editor of Fly Fisherman magazine and lives in Pennsylvania.