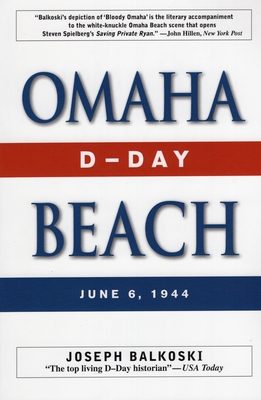 Omaha Beach
D-Day, June 6, 1944
Paperback

* Individual store prices may vary.
Description
Balkoski's depiction of 'Bloody Omaha' is the literary accompaniment to the white-knuckle Omaha Beach scene that opens Steven Spielberg's Saving Private Ryan. -- John Hillen, New York PostIn this unforgettable narrative of D-Day, Joseph Balkoski describes the minute-by-minute combat as it unfolded on Omaha Beach, allowing soldiers to speak for themselves as they recall their attempts to maneuver bombers through heavy cloud cover, the claustrophobic terror aboard transports, and the relentless fire that greeted them on the beach. Equal parts oral history and meticulous reconstruction, Omaha Beach is the closest the modern reader can get to experiencing the Normandy landings firsthand.
Stackpole Books, 9780811733762, 410pp.
Publication Date: May 18, 2006
About the Author
Joseph Balkoski is Command Historian of the Maryland National Guard and author of Omaha Beach (978-0-8117-3376-2), Utah Beach (978-0-8117-3377-9), and the classic Beyond the Beachhead (978-0-8117-3237-6). He has appeared as a D-Day expert on MSNBC, and his work has been praised by Joe Scarborough, the New York Post, the Washington Times, World War II magazine, and others. He lives in Baltimore, Maryland.
or
Not Currently Available for Direct Purchase