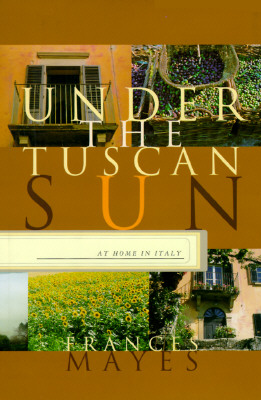 Under the Tuscan Sun
At Home in Italy
Hardcover

* Individual store prices may vary.
Other Editions of This Title:
Digital Audiobook (7/4/2000)
Paperback (9/2/1997)
Other printed item (3/15/2007)
Paperback (9/1/2010)
Paperback (8/26/2003)
Description
Buying a villa in the spectacular Italian countryside is a wonderful fantasy -- even if 17 rooms and a garden in need of immediate loving care are included in the asking price. Frances Mayes -- gourmet cook, widely published travel writer, and poet -- changed her life by doing just that. Sprinkled liberally with delicious recipes for inspired Italian dishes, amusing anecdotes about the risks of being your own contractor, and a savvy traveler's reminiscences, Under the Tuscan Sun is Mayes's enchanting account of her love affair with Tuscany: of scouring the neighborhood for the perfect panettone and the perfect plumber; of mornings spent cultivating her garden, and afternoons spent enjoying its fruits in leisurely lunches on the terrace; of jaunts through the hill towns in search of renowned wines; and the renewal not only of a house, but also of the spirit. An unusual memoir that combines the appeal of M. F.K. Fisher, Peter Mayle, and Martha Stewart, Under the Tuscan Sun is a feast for the senses.
Praise For Under the Tuscan Sun: At Home in Italy…
Reviews From:
New York Times Book Review

Chicago Tribune


By Alida Baker
There are nods to Gaston Bachelard's 'Poetics of Space,' insights into Renaissance painting and references to James Joyce and Gabriel Garcia-Marquez, but what Ms. Mayes mostly provides are the kind of satisfyingly personal crochets and enthusiasms you might exchange with an old friend over a cup of coffee at the kitchen table....Casual and conversational, her chapters are filled with craftsmen and cooks, with exploratory jaunts into the countryside -- but what they all boil down to is an intense celebration of what she calls 'the voluptuousness of Italian life.'
In a characteristic revelation, she tells us that she sometimes takes along a book of poetry when she goes for walks 'because walking suits poetry. I can read a few lines...sometimes just repeat a few words of the poem....The rhythm of my walking matches the poem's cadence.' Her own book seems more like the kind of thing you'd tuck into a picnic basket on an August day, when 'the summer sun hits you like a religious conversion' -- or, better yet, keep handy on the bedside table in the depths of January, when your memory of the 'the spill of free days' needs desperately to be coddled back to life.

By Perry Stewart
In 1990, Frances Mayes and her husband purchased an abandoned villa on five acres in the sun-splashed Tuscany region of north-central Italy. In a manner more unhurried than that of Peter Mayle, who went to France and chronicled "A Year in Provence," Mayes celebrates in her book a handful of years of absorbing sights, sounds, smells, tastes and impressions in this province whose intellectual hub is Florence, crucible of the Renaissance. Georgia-born Mayes is a poet, gourmet cook and travel writer. Her Tuscan journal is blessed with input from each of those job classifications.
If you're indifferent about the preface, where Mayes rhapsodizes about sitting by the fireplace, grilling slabs of bread and oil and pouring a young chianti, perhaps you'll be seduced by Page 22, wherein she salutes marinated zucchini, olives, roast chicken and potatoes washed down with a bottle of cold prosecco. Maybe you'll hold out until page 66, where Mayes folds into her text a recipe for a custardy cake with pine nuts.
Mayes recalls how she learned (in Provence, coincidentally) not to measure, but just to cook, using components of the moment and experimenting at will. She does consent to break down some of her Tuscan creations into actual recipes for the benefit of formula-bound Americans. Woven into sensual images of Tuscany is the ongoing restoration of the villa, a bottomless pit into which Frances and Ed cheerfully toss dollars and lire by the sackful.
Mayes has a poet's gift of imagery, and she lingers for pages on a single speck of recollection. She also has fits of word economy, as in a compact, one-paragraph tour of the houses where she stayed in previous Italian sojourns.
You come to realize that Mayes is toasting an entire way of life, one with its own seductive cadence. By way of example: At the end of a lingering outdoor lunch with friends, comes the advent of "the delicious stupor that sets in after the last pear is halved, the last crust scoops up the last crumbles of gorgonzola, and the last drop empties in the glass." The Tuscan way dictates what Mayes calls "a three-hour fall through the crack of the day."
That's right, a siesta.
At the same time you appreciate Mayes' craft, you value her humanity. "I like this woman," you find yourself saying. And what's this? She cooks to the music of Vivaldi, Villa-Lobos and Robert Johnson. Yes, Robert Johnson, the hellhound-haunted Delta bluesman.
Well, all right.
A romantic memoir of buying, renovating and settling into a villa near Cortona, Italy.
New York Times Book Review
Chronicle Books, 9780811808422, 288pp.
Publication Date: September 1, 1996
About the Author
Frances Mayes is a Georgian who now lives in Cortona, Italy, and San Francisco, California. She has written five books of poetry and is chair of the creative writing department at San Francisco State University.