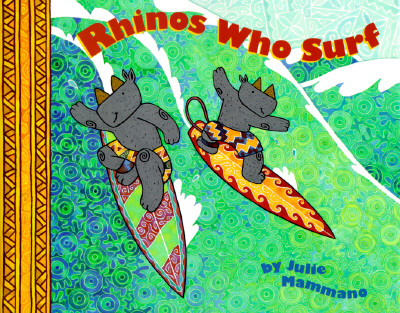 Rhinos Who Surf (Hardcover)
Chronicle Books, 9780811810005, 32pp.
Publication Date: April 1, 1996
* Individual store prices may vary.
or
Not Currently Available for Direct Purchase
Description
Surfing is an exciting pastime with a lingo and a look all of its own and it becomes even more fun when three radical rhinos take to the waves. This hilarious look at the sport will delight readers of every age. The brilliant watercolor illustrations bring alive the thrill of shredding mondo waves, carving up the face, and finally, riding the last wave into bedtime. Young children will especially love hearing this book read aloud and looking at the colorful and way-cool pictures.
About the Author
Julie Mammano is a freelance artist and illustrator who lives and works in Southern California. In preparation for her books, Julie has learned to surf, snowboard, skateboard and most recently, how to play soccer.
Praise For Rhinos Who Surf…
--SCHOOL LIBRARY JOURNAL, Starrred Review, July 1996
Mammano's delightful offering will have readers smiling from cover to cover as rhinos ride the waves. Their day is related in surfing jargon as they "jam" to the beach, spend time on their boards, and contentedly return home. Some the book's appeal is due to the surprising incongruency of rhinos gracefully surfing. These animals have a rollicking good time as they assume correct positions and moves that the text explains in brief sentences that rise and fade upon the waves in large graphic letttering. Bright colors with abstract designs in dominant blues and greens skillfully woven into the background define the setting but never detract from the realistic look of ocean waves. Children who have watched surfers from the shore will be pleased to find a book about the subject, while those inland will appreciate its sheer fun and buoyant exuberance. A section titled "Surf Lingo" rounds out the presentation. A refreshing addition.

--PUBLISHERS WEEKLY, May 1996
Everybody's heard about the surfer bird, but rhinos ride the waves too, according to Mammano's exuberant debut. In this account of an ideal surfing day, three amiable rhinos in patterned Bermuda shorts wake up, stampede to their yellow VW Bug and zoom to the beach, where they hungrily eye the whitecaps. Wasting no time, they jump on their boards: "Rhinos who surf have no fear of MONDO waves.... they SHOOT THE TUBE and are WAY COOL in the GREEN ROOM." The illustrations are as contemporary as the slang. Mammano fills each full-bleed page with zigzags, concentric circles and seaweedy squiggles; the backgrounds resemble an intricate batik or a Hawaiian shirt, in watery blue-green and sunset orange hues, while the smiling rhinos might be tiki-style statues carved from gray lava rock. The chunky, curving lines of text complement the imagery, following the characters as they perform "killer aerials," "go vertical" or fall into the underwater "rinse cycle." In the glossary at the end of the book, Mammano provides no fewer than five synonyms for"very" ("full-on," "fully," "major," "totally" and "way"). Radabonzical! Ages 2-6.

--PARENTS' CHOICE, Spring 1996
Three rhinos awaken, grab their surf boards, and head to the beach for a day of surfing. With curving, twirling lines, bright watercolors, and soft, complex, often geometric designs, this picture book is a visual delight. Because it introduces surfing lingo, which is totally useless knowledge unless one is a surfer, this book is sure to be memorized and frequently quoted by young readers.

--L.A. PARENT MAGAZINE, June 1996
Mondo! Killer! For a way awesome summertime literary experience, young readers will chortle along with Rhinos Who Surf. Here we have a portrait, written and illustrated with verve by first-time author Julie Mammano, of the lifestyle of the totally tubular. Not only do these ecastatic and excellent rhinos coast through some major tasty artwork, but they make way for an amusing glossary of surfing lingo.

--SURFING MAGAZINE, June 1996
"Surfing is an exciting sport with a look and lingo all its own--and it becomes even more fun when three radical rhinos take to the waves." I swear, these words are on the flap of this book. It's a kid's early reader illustrated by a San Onofre surfer called Julie Mammano, who claims to have thought of surfing rhinos while driving home from a session. If you've got a young brother or sister and can't afford to buy 'em their first board, Rhinos Who Surf might be a good alternative. Hell, it's better than Hop On Pop.


Advertisement