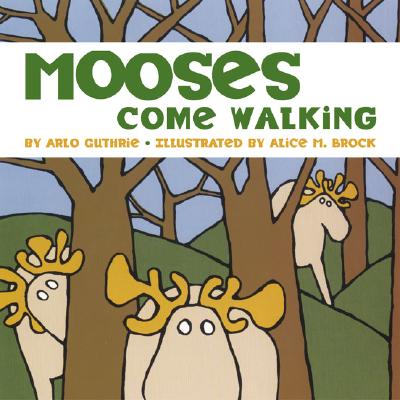 Mooses Come Walking (Hardcover)
Chronicle Books, 9780811810517, 32pp.
Publication Date: May 1, 2004
* Individual store prices may vary.
or
Not Currently Available for Direct Purchase
Description
"Mooses look into your window at night
They look to the left and they look to the right
The mooses are smiling, they think it's a zoo
And that's why the mooses like looking at you. "
Singer/songwriter Arlo Guthrie's Iyrics come alive in this illustrated version of his folk song "Mooses Come Walking." Readers will find humor in what mooses do when they go for walks and will be surprised by the silly adventures mooses partake in. Look out you never know when a moose may be watching you
About the Author
Arlo Guthrie has produced more than a dozen albums -- and for the first time, one of his songs has been illustrated to create this charming children's book. He lives in Massachusetts.

Alice M. Brock is the former owner and chef of the world-famous Alice's Restaurant - immortalized both in Arlo Guthrie's song and the film by the same name. She makes her home in Provincetown, Massachusetts.
Praise For Mooses Come Walking…
This is as finger-snapping catchy as Mother Goose with antlers. Kirkus Reviews

...a perfect bedtime story for city and country kids alike...Thanks, Arlo and Alice. Good night. The New York Times


--KIRKUS REVIEWS, September, 1995
Guthrie's first book is an endearing poem that is supposed to be about moose, but whose blithe rhymes have nonsense verse written all over them, "Mooses come walking up over the hill./Mooses come walking, they rarely stand still." Only 12 lines long, the story is delivered a half-line at a time, complemented by acrylic paintings that have the simplicity of woodcuts in their bold black lines and even blocks of subdued color. The moose gather and peer into a window, where they see a terrified person in bed. Then they leave. There may be simple truths hidden between the lines, but even if there aren't, this is as finger-snapping catchy as Mother Goose with antlers.

--PUBLISHERS WEEKLY, October 23, 1995
Folksinger/songwriter Guthrie teams with Brock (the Alice of "Alice's Restaurant" fame) in this raffish book about moose who "come walking up over hills" to peek into bedroon windows. Once there, "The mooses are smiling / they think it's a zoo / and that's why the mooses / like looking at YOU." The poem, which Guthrie recites at his concerts, is filled with a subtle yet sly humor, adroitly captured by Brock's (How to Massage Your Cat) stylized illustrations. Deceptively simple, expertly composed paintings place her moose between the somewhat spooky and down-right silly; and her strong but limited palette (she sometimes uses as few as three colors on a page) effectively complements the minimalism of Guthrie's good-humored language. Ages 2-6.

-- THE NEW YORK TIMES, Alice Miller Bregman, December 1995 I grew up in New York City, where I learned to negotiate the streets with caution but without fear. On the other hand, I was terrified of, everything in the country--grass, trees, silence and, especially, wild animals. In my imagination, wild animals hid behind every shrub waiting to jump out at me. This made sleeping in the country very difficult, because I had to be ever vigilant in case one of them left its hiding place to look for me. If I had only had Arlo Guthrie's comforting Mooses Come Walking to refer to, all my worries would have vanished.

In Mr. Guthrie's poem, "Mooses come walking up over the hill.... / When mooses come walking they walk where they will ! Mooses look into your window at night.... / The mooses are smiling, they think it's a zoo / and that's why the mooses like looking at you." And how could I have remained frightened of wild animals when they only want to have a look at me, and with the same curiosity and fondness that I had when I looked at the animals in the Central Park Zoo?

If you are an Arlo Guthrie fan, as I am, you will be able to hear his dry, nasal twang reciting these lines, as in fact he does now at some point in all his concerts. Indeed, this book grew out of requests about where to find the poem in print. Here he teams up with Alice M. Brock, his friend from that famous restaurant of yore, whose illustrations have provided the perfect visual accompaniment for his voice.

Ms. Brock uses flat, autumnal colors and simple shapes to create some friendly moose who amble over some plain fading-green hills till they find a house and a window to look in. Then, just as amiably, they amble back over those hills, leaving readers feeling cozy and safe and masterful.

Lately it seems that lots of celebrities--rock musicians and others--have turned their attention to children's books, with greater or lesser success. Arlo Guthrie's talent is more appropriate to the genre than most. Performing his own music for years has helped him to find the perfect cadence for his verse, and because he has learned when to stop, he never loses his audience. This makes for very little text; but though this is a small book, it produces a big response--which is the case with well-thought-out books.

Mooses Come Walking
Advertisement