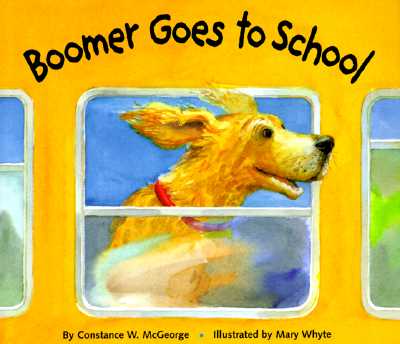 Boomer Goes to School (Hardcover)
Chronicle Books, 9780811811170, 32pp.
Publication Date: March 1, 1996
* Individual store prices may vary.
or
Not Currently Available for Direct Purchase
Description
In Boomer's Big Day, Boomer and his family moved to a new town. Now Boomer is going to school! Like many new students, Boomer finds that going to school can be a bit confusing...at first. But in the end, he discovers that school is a great place for friends, learning, and fun!
About the Author
Constance McGeorge dedicates her time to writing children's books and painting. She lives with her husband, James, three dogs and a horse in Columbus, Ohio.

Mary White is an accomplished artist who is best known for her watercolor portraits. She lives on Johns Island, South Carolina, with her husband Smith Coleman and their dog Boomer. This is her third children's book.
Praise For Boomer Goes to School…
...an endearing hero, just right for preschoolers curious about where their older siblings go during the day. Kirkus Review


--KIRKUS REVIEWS, March 15, 1996
The aerial view of a maze of stairways, hallways, and doorways exemplifies the confusion of Boomer, an endearing golden retriever, when his morning routine is interrupted by a visit to his owner's school. Boomer is unsure of what to expect at school but enthusiastically joins the children in painting--he accidentally spills paint cans, pads through the colored puddles, and autographs students works with his paw prints; he enjoys recess when he steals the soccer ball; and he relishes lunch, where he ravenously rips into all available goodies. Boomer is squirmy and yappy and unwilling to be still for quiet circle time until he is led to the circle's center to be the object of show-and-tell. Whyte's lively watercolors expressively capture the energy of primary schoolers and the array of emotions Boomer experiences during his first day at school. Previously popular for surviving his family's move in April 15, 1996
Boomer, a big, affable golden retriever, is unaware as the day begins that he is his young owner's show-and-tell subject. The dog loves a good adventure, but finds the school bus a bit noisy. At school, the canine is unleashed and left to his own devices while the children engage in their regular activities. Overeager Boomer experiences all the joys of school life such as "toys to share...pictures to paint...games to play...and best of all...lunch!" The story is delightful and has a good read-aloud text. Whyte's vivid, detailed watercolors bring readers into the modern classroom. Though the children are preoccupied, readers see exactly what Boomer is up to. There is definitely more animation here than in the author's August 1996
Boomer, a shaggy golden retriever and hero of McGeorge has skillfully blown up one incident into an entire book, with a well-timed text that offers a dog's version of events in school: "A loud bell rang. A grown-up started talking. Everyone sat down and listened." Much of the humor arises from the matter of fact text and unexpected events in the pictures: In the scene of "pictures to paint," paw prints in bright colors trail across paper and floor, and in the illustration of "games to play," Boomer is seen stealing the soccer ball and disrupting thc action. Whyte's tricks with point of view make ordinary classroom scenes fresh, e.g., she shows the arrival of children at school from high overhead and a close-up of clapping hands at Boomer's big moment. He's an endearing hero, just right for preschoolers curious about where their older siblings go during the day. (Picture book. 2-6)


Advertisement